Family and our food history are important to me
Beef stroganoff is a recipe that has been around since the mid-19th century, and is classically a beef dish served with a sour cream sauce.  And the evolution of beef stroganoff is well documented around the world.  For my family, it may very well have originated in Russia, and been brought over by my family in 1922.  My grandmother and her siblings were orphans of the revolution, and came to America, poor and alone.  I can imagine that beef may have been substituted for another ingredient, either mushrooms or additional vegetables, or it was a very special meal reserved for special occasions.  In either case, it's a recipe that has stuck with my family for close to 100 years!
It was one of my favorite meals when I was a kid
My mother's version of the recipe was a quick, cheap meal to feed her brood of five children.  And it wasn't called stroganoff.  It was hamburger gravy.  In Iowa during the mid-sixties, ground beef was the go to meat.  It was cheap, easy to work with, and good protein for large families like ours.  My mother's version didn't include sour cream.  Mom's hamburger gravy was very simple, very quick, and very hearty.  And  it was one of my favorite meals when I was a kid.  It  was, ground beef, in a milk gravy sauce, with onions, lots of black pepper and served over mashed potatoes.  Sort of like SOS, but with fresh beef instead of dried beef.
In 1968 Better Homes and Gardens released the Casserole Cookbook.  We got a copy of the ninth printing in 1973 and we started to use it frequently.  I still have that copy, and pages are stained, and the Hamburger Stroganoff recipe still has a torn piece of paper marking the page.  It was a very simple recipe with canned condensed soup, ground beef and sour cream.  Other Stroganoff recipes include canned mushrooms.  Let's just say that the rubbery mushrooms were usually left out.  I didn't like mushrooms and didn't even bother to substitute them with anything else.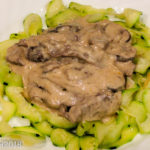 Over many years, this tasty recipe morphed from the originals from the Casserole book to my personal version.  I put the mushrooms back in, added extra sour cream, and made a simple creamy sauce that's gluten free.  Instead of noodles, I use sauteed zucchini or summer squash.  It's still one of my favorite meals, and using the squash instead of noodles gives me the veggies lacking in the original recipes.  It's a win-win for me and the family.
Family and our food history are important to me.  It was rare that we had any fancy meals, but everything was cooked with care and our health and happiness in mind.  I admit to having been a very picky eater, and I'm still picky about the food I cook.  We always do the best we can with our food and our time together.  I've been blessed to teach some things to the next generation, and hopefully, they will pass this amazing food legacy on to their kids.  My granddaughter is already enjoying helping in the kitchen and cooking her play food on imaginary stoves.  This apple has not fallen far from the family tree!  Someday, she can make her mark on this classic family recipe.