It's 2020 and one of the best things of the summer is mangoes! The sweet and juicy fruit is plentiful and inexpensive. I can eat them alone, but one of my favorite things to do with mangoes is to make salsas and margaritas.
I was working on a recipe for fish tacos, and decided to look at a fresh salsa as a topping; mango, cucumber and radishes with citrus are the best accompaniment for a citrus marinated taco. But the best thing about this recipe is that it can be served as an appetizer with tortilla chips and quesadillas.
4 red radishes, thinly sliced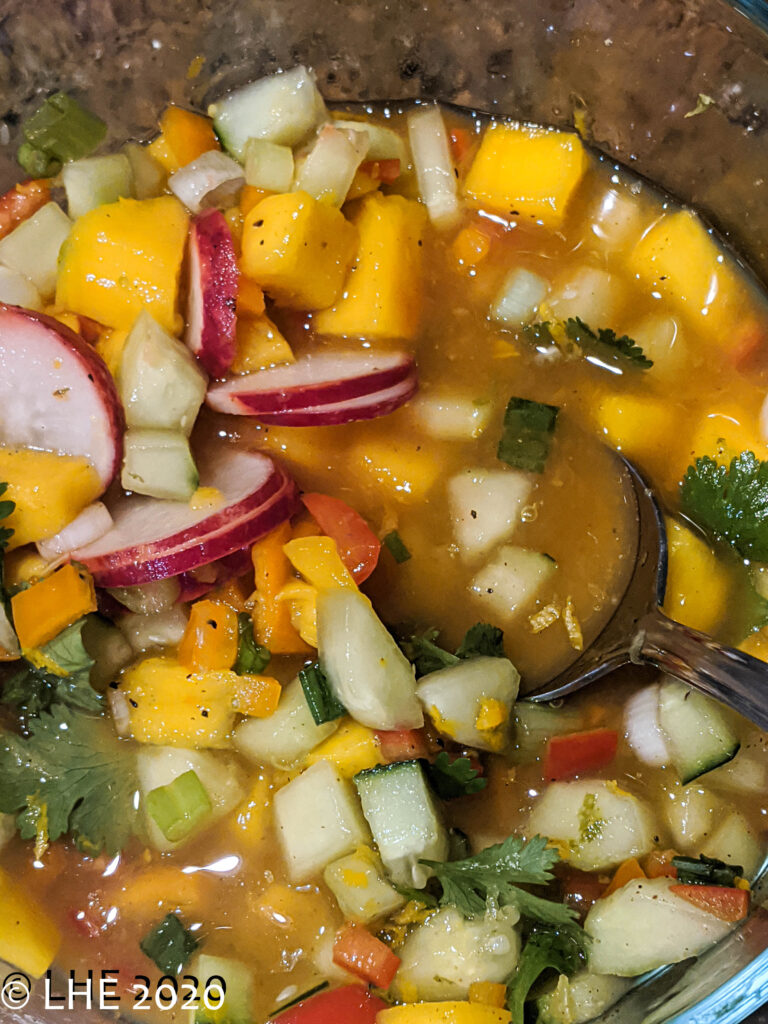 1 large or two small mangoes, small dice
1 scallion, sliced
1 cup cucumber, small dice
1 bell pepper, small dice
½ fresh jalapeno, seeded and finely diced
1 orange, zested and juiced
4 limes zested and juiced
1 teaspoon annatto (achiote)
1 teaspoon ground cumin
½ teaspoon ground coriander
¼ cup chopped cilantro
1 teaspoon epazote*
1 teaspoon kosher salt
½ teaspoon black pepper
Combine the fruit and veggies in a serving bowl. Reserve 1 tablespoon each of cilantro, and scallion tops, and 1 teaspoon each of the zest for garnish. Combine the remaining ingredients, cover and refrigerate for at least one hour, or for best results over night stirring once to redistribute the liquid. Garnish and serve as a taco topping, or relish for chicken, pork or just dip some chips!
*Substitute Mexican oregano for epazote