The story of the chicken fried steak in Texas begins with German immigrants. But my chicken fried steak story starts in Iowa.
When I was in junior high, we had chicken fried steak days in the school cafeteria. The ground meat patties were always soggy and just nasty. I could not eat them. I would always try, as a good kid, but could never finish them. I asked my mom to try. Her version was not much better. So never again was I going to try this food.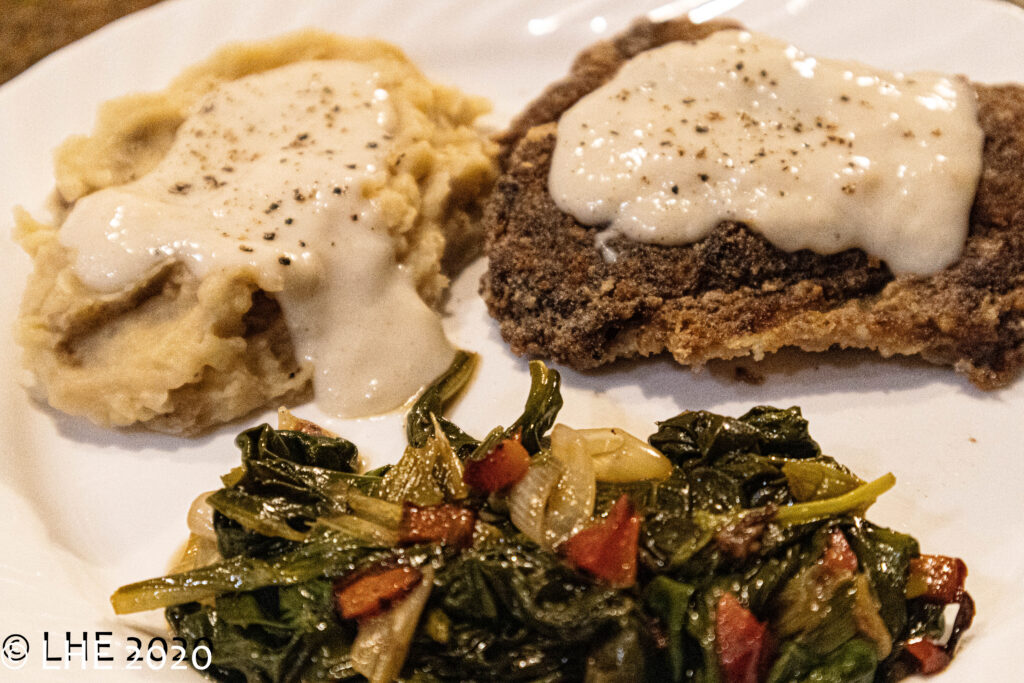 Many years ago, T.D. took me to a tiny cafe in the tiny town he lived in. He ordered a chicken fried steak sandwich. I don't remember what I ordered, but by the end of the date, I was jealous of his meal. When it arrived, the plate was covered in deep fried steak, on a bun. He offered a bite and I didn't turn it down. The appearance reminded me of the classic pork tenderloin sandwiches we ate in Iowa. And with some minor differences, the flavor was very similar. Just a little side note, I never learned to make a pork tenderloin until a few years ago.
This date night became a pretty regular event until T.D. and I bought our house and moved to Austin. We would occasionally trek to that cafe for date night, but the trips became less frequent. But I started making attempts at the recipe. We always ate whatever it turned out to be, but, I couldn't quite get everything right.
When I had to go to a gluten free diet, this became a priority for me. I knew I was never going to get a chicken fried steak again unless I made it myself. A few times a year, I'd try. I always ate whatever it turned out to be, but it wasn't quite right. I had a couple of problems.
Gluten free foods tend to have problem with texture. It's never going to be the same as a wheat based food, primarily because of the lack of gluten. The other problem was that the coating, once the meat started to cook was not adhering to the steak, and would allow the oil in and cause holes. When cut, the coating would disintegrate and crumble. I highly recommend using the sirloin and tenderizing yourself. The pre-tenderized steaks are convenient, but the little holes are the problem with the crust adhering to the steak. The recipe below is the closest to the cafe recipe from years ago.
1 pound top sirloin, trimmed and portioned into 3 or 4 steaks*
Or
4 tenderized steaks about 4 ounces each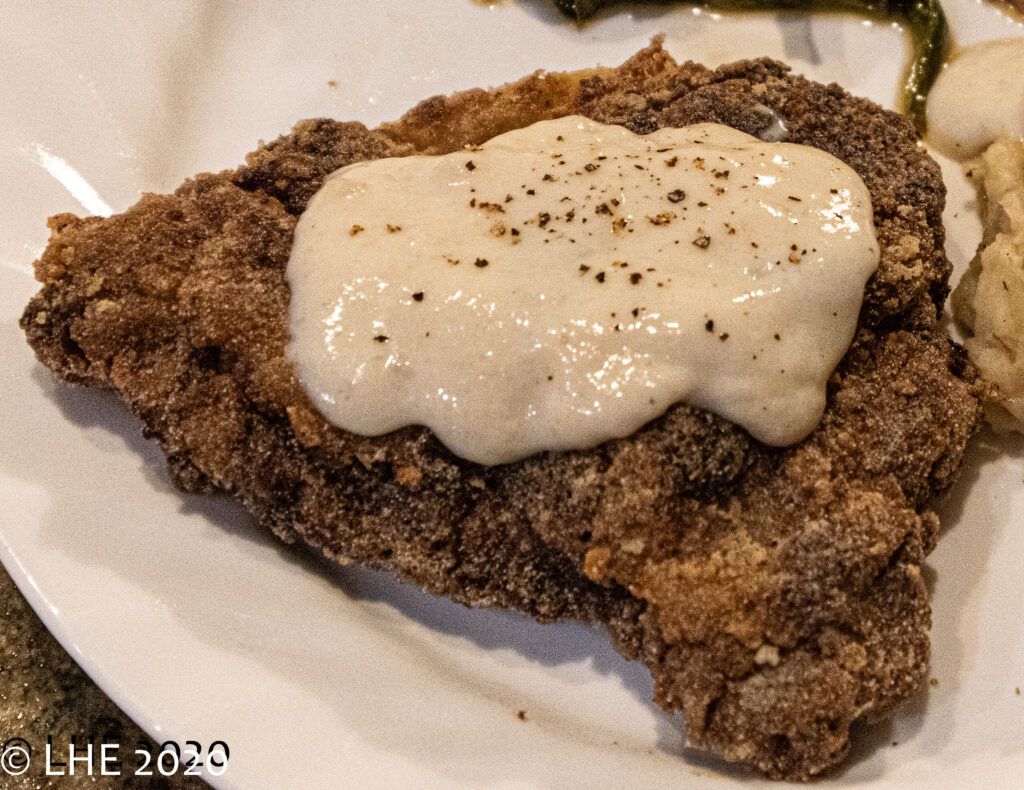 ¾ cup buttermilk
1 cup Namaste gluten free flour
½ cup gluten free Panko bread crumbs
1 teaspoon garlic powder
1 teaspoon onion powder
½ teaspoon cayenne pepper
1 teaspoon salt
1 teaspoon black pepper
½ cup white rice flour
1 cup cooking oil
*Wrap the steaks in plastic wrap, use the smooth side of a mallet and pound out to 1/2 inch thick. I prefer this method. The coating sticks to the steaks without bubbles.
In a bowl blend the Namaste flour, bread crumbs, and seasonings. Set up a frying station.  Place the rice flour in a flat pan, next buttermilk, and then the flour blend in a flat pan.  On the other side of the skillet place a baking pan lined with paper towels and an inverted cooling rack on top.  Heat a skillet over medium heat and add the oil.  Dredge the steaks in rice flour, then buttermilk and finally in the flour blend.  Carefully place the steak in the oil and fry for about 3 minutes or until the coating is lightly browned.  When completely cooked to your desired color, place them on the inverted rack.  Serve with any sauce you like.  Or make this gluten free cream gravy.
Cream Gravy
3 tablespoons cooking oil or butter
3 tablespoons rice flour
1 ½ cups milk
½ cup cream
½ teaspoon each salt and fresh ground black pepper, add more to taste
In a skillet heat the oil and whisk in the butter or oil. Add the milk, reduce the heat. Using a whisk to keep the mixture smooth continue adding the milk and cream, bring to a simmer and whisk until desired consistency. Add more liquid, either milk or water for a thinner gravy. Taste and season.