When I was a kid, my mom would buy Philadelphia Pimento Cheese Spread in a little jar, and it was always for company. I would get a little cracker or two, and when the jar was empty, I would scrape it clean. The the jar became a little juice or milk glass for me. Good times.
In Texas and around the country many people are familiar with Price's pimento cheese dip. Although there are similarities, Price's is based on mayonnaise. And it's delicious. I've consumed a few tubs in the last few years. My favorite supermarket, makes a similar cheese dip, that's a bit thicker and has a lot more grated cheese. But it too is based on mayonnaise.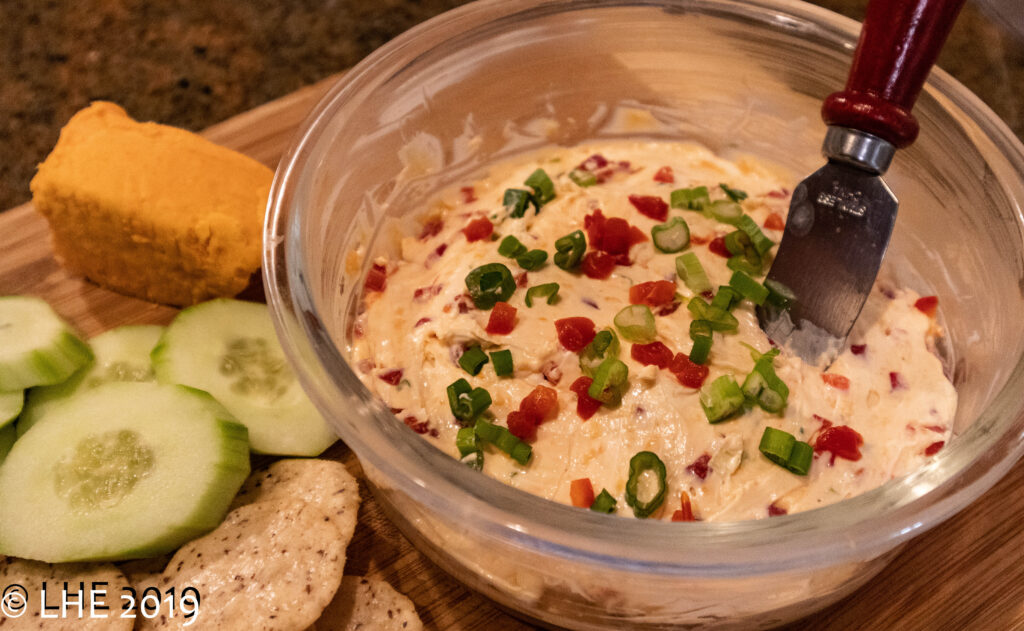 After buying a few jars of the Philly, I decided to try out my own creation on my family. The recipe was, as always, a guess when I'm trying something new, and often the recipe flops, but we all love cheese, so I knew it couldn't go too badly. And I as right. It took a minor tweak or two before I served it, but everyone loved it, and there wasn't any left at the end of the night.
Pimento Cheese Spread
8 ounces cream cheese
1 4-ounce jar diced pimentos, drained
1 scallion (green onion)
½ teaspoon granulated garlic
¼ teaspoon freshly ground black pepper
3 ounces or ¾ cup strong cheddar cheese, grated
2 tablespoon diced jalapenos (optional)
3 tablespoons diced green olives (optional)
¼ – ½ teaspoon ground cayenne pepper
Break up the cream cheese in a mixing bowl. Thinly slice half of the scallion, reserving the tops for garnish. Add all but 1 teaspoon of the pimentos to the cheese. Add all the other ingredients to the bowl and, using a rubber spatula, stir the mixture, working to break up the cream cheese. Use a small masher, if needed to blend. Once the mixture is well combined, smooth the top with the spatula and garnish with a teaspoon of pimentos and a tablespoon of thinly sliced scallion tops. Serve with crackers, celery and cucumber slices. This also makes a great sandwich spread!