I was playing around with ideas for some lamb shanks that I found on sale.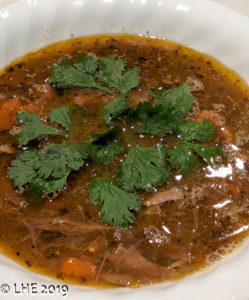 Mexican and Tex-Mex restaurants, cabrito (little goat) is on the menu. It's one of my favorites. Lamb is on most of the menus of more creative chefs in Texas, and much of the product is from farms and ranches in Texas.
A typical lamb stew or soup would have very classic Irish or European blend of veggies and flavors. Potatoes, carrots, onions, etc. maybe with a beer base. But raising sheep and goats has become more common in Texas, and at more traditional
In the early years in Texas, sheep herding was very common and South and Central Texas produced wool and meat. The land along the Coastal Plain was and is still covered with grassland perfect for grazing. This subsided in the 1880″s for a variety of reasons, and ranchers turned to cattle.
Most of the lamb found in supermarkets in Austin comes from New Zealand. But the trend is changing with a growing sheep economy in Texas. It's more expensive per pound, due to good practices and a later age of harvest. The meat is more flavorful, while maintaining a delicate texture. New Zealand and Australian lamb is often preferred because it lacks the sometimes less appreciated gamey flavor. Personally, I think the mild gamey note gives the meat character and lets the chef or cook play more with the supporting ingredients. And that rich distinctive flavor inspired this recipe.
I came to the conclusion as I was daydreaming about cooking lamb shanks, that the stew should have the flavor of Central Texas. This meant a well-spiced hearty stew any good Tex-Mex restaurant would serve. So this stew is spicy, herbaceous, rich and warm. It's an easy crock pot or Dutch oven meal, and it freezes very well. Add cheese and cilantro to top and serve with warm soft tortillas and guacamole salad.
To prep the shanks, you may want to remove the silver skin or at least score it. This will help with cooking. I like to leave it on, because it's flavor and collagen, and that means a better stew. Beef can be substituted; use ox tail or a meaty soup bone and stew meat. Don't remove the seeds from the tomatillos. However, if you use green tomatoes, remove the seeds.
Tex-Mex Lamb Stew
2 Whole Lamb Shanks or Stew Meat about 1 1/2 pounds meat.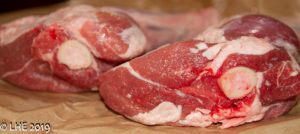 1 quart beef or chicken stock
3-4 tomatillos, husks removed (green tomatoes can be substituted)
1 whole Anaheim Pepper, diced, seeds removed*
2 carrots, fine dice
2 celery stalks, fine dice
1 medium white onion, fine dice
2 cloves garlic minced or grated
1 tablespoon ground cumin
2 tablespoons Mexican oregano
1 teaspoon ground cinnamon
½ teaspoon smoked paprika *
2 15 ounce cans pinto beans, drained and rinsed
2 teaspoons kosher salt
1 teaspoon black pepper
2 tablespoons olive oil
Season the shanks or stew meat with a pinch of salt and pepper. Roughly chop the tomatillos and peppers. heat a Dutch oven on medium high heat, and add the olive oil to a Dutch oven, brown the meat, remove to a plate. Sauté the onions, celery and carrots. Add the peppers and tomatillos and sauté until they start to soften and break up. Return the meat to the pot. Add the oregano, cinnamon and garlic. Add the stock to deglaze the pot. Cover and simmer for 30 minutes. Remove the shanks, and shred the meat. Return to the pot and add the beans, cover and simmer for 30 minutes. Serve in a large bowl and garnish with fresh chopped cilantro and crumbled queso fresco.
*Instead of Anaheim chili and Smoked Paprika, use 1-2 chipotle chilis in adobo and a generous teaspoon of adobo sauce. This will increase the heat, but it is delicious!