This is the recipe that almost wasn't.
Trying to make it more compatible with home cooking failed repeatedly. From too much liquid, over crowded pans, (I know better), and heat and timing, it just seemed to be one step from going into my recipe hall of shame.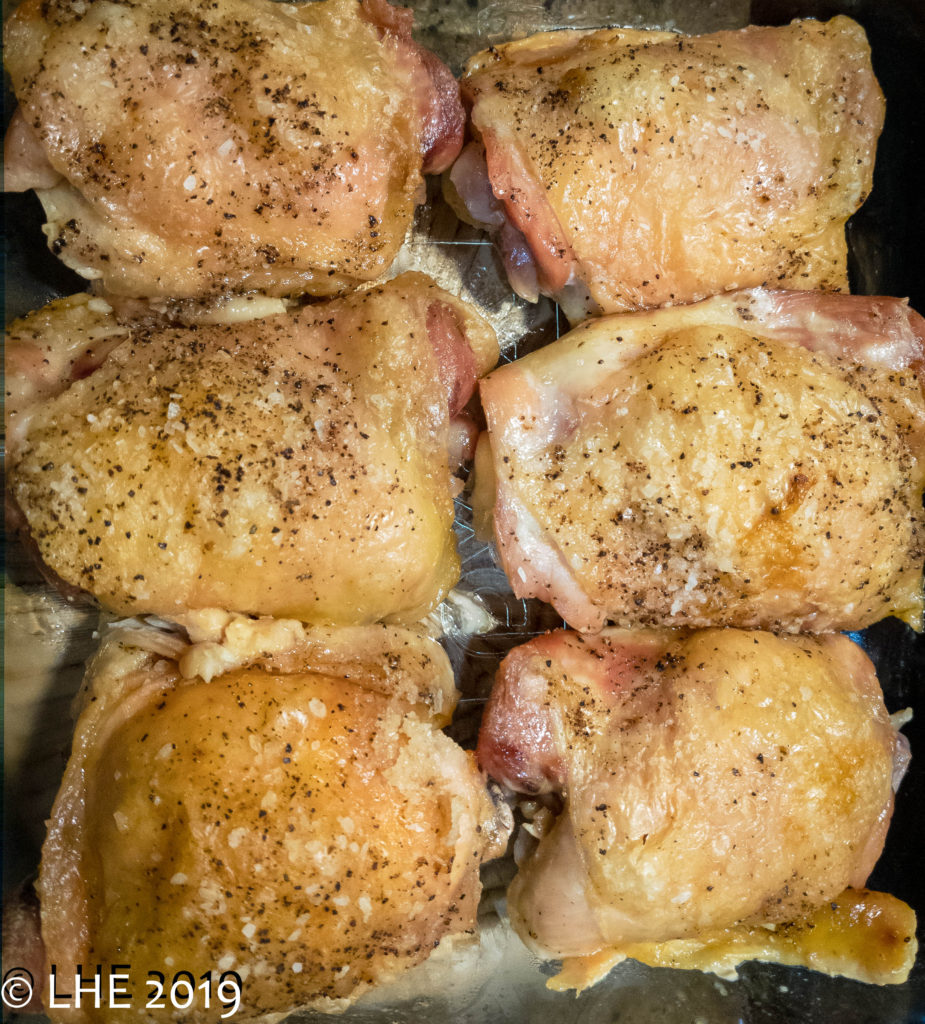 There is some history with the recipe. I was hired to teach a class and the theme was Spanish Christmas, with several limitations. Seafood was out and so was lamb. It had to be low-fat and easy to make. So the best option was chicken. Add a few Spanish type ingredients, and we had a plan.
The original recipe had the thighs cooked in a skillet on the stove top. In practice, this was one of the messiest and hardest to clean recipes I've ever made. But the results were amazing! I was a guest chef in someone's very nice home. I was going to clean up this mess. So the more home-cook friendly version was started. Not many things worked. I tried so many things, it would take days to explain all of the mistakes. So here are a few very important tips for this recipe to work.
Use high quality chicken. All- natural chicken that has not been injected or preserved is the best.
The pieces need to be similar size and weight. Six ounces is perfect. I would consider putting the chicken in pans based on size.
And last but not least, The thighs need to be dry, no water, no ice crystals. The thighs need to roast and sort of fry in the oven, and water is the enemy of frying.
The plan was to make easy clean up, and other than using additional pans, it's very easy to clean up. The white wine, lemon and saffron sauce is versatile and can either be used straight from the pan, or by making a cream sauce or a classic gravy using corn starch. This may not end up as a weeknight meal, but it's a very easy weekend recipe or a meal for dinner guests.
Crispy Skin Chicken Thighs with Lemon Saffron Sauce and Roasted Red Potatoes
6 Chicken Thighs with skin and bone in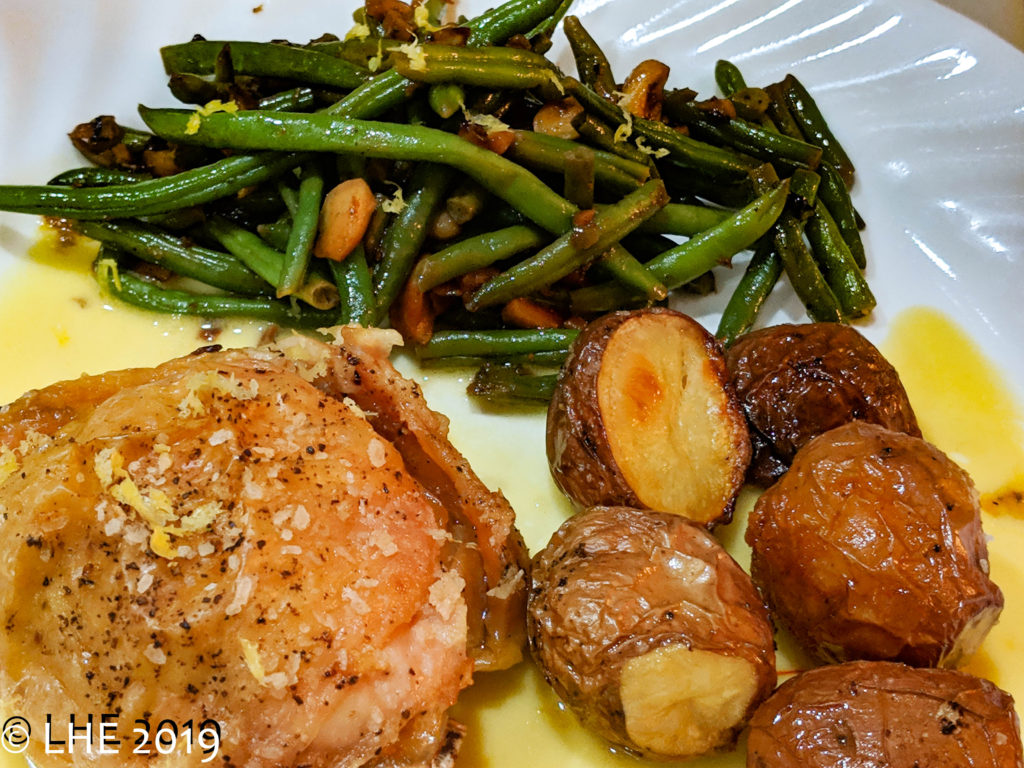 1 tablespoon olive oil
2 tablespoons cooking oil
½ teaspoon black pepper
2 teaspoon kosher salt
1 cup vegetable stock
½ cup dry white wine, pinot grigio or dry vino verde
1-2 pinches saffron threads
1 lemon, zested and juiced
2 garlic cloves
2 pounds small red potatoes
Preheat oven to 350 degrees. Line a 9×13 inch cake pan with foil. Add 1 tablespoon of the oil to the pan and cover the bottom of the pan with the oil. Place the thighs skin side up in the pan and season with 1 teaspoon salt and ½ teaspoon of pepper. Cook for 30 minutes. While the chicken is cooking, clean the potatoes and halve any of the largest potatoes. Prepare a shallow baking dish with 1 tablespoon cooking oil. Add the potatoes and toss in the oil. Add salt and pepper to taste. Remove the chicken from the oven. Remove 2-3 tablespoons of the rendered fat and add it to the potatoes. Place the potatoes and chicken in the oven. Increase the temperature to 425 degrees. Roast for 10 minutes. Remove the chicken from the oven. Add the wine, stock, lemon juice, garlic, and saffron, being careful to avoid the chicken skin. Put back in the oven for 20-25 minutes. Check potatoes with a fork. A fork should easily pierce the skin. Remove both pans. To thicken sauce if desired, pour into a saucepan, heat over medium heat until simmering. Add 3 tablespoons of heavy cream, reduce heat and whisk until well combined. To serve garnish with lemon zest and fresh chopped parsley.
Serve with Green Beans with Almonds, Pimentos and Lemon