Sunday Marinara
I got up this morning and started a batch of marinara, rich tomato-ey goodness simmering away in the multi-cooker.  Most of it will be frozen in 1 cup containers for future use as pizza topping and punt meals.  Today it will be served with chicken spinach sausage over spaghetti cut yellow squash.  The squash will be sauteed in a little butter and garlic.    The marinara takes 15 minutes to prep and cooked in a slow cooker about four hours to become sexy.  I used all organic ingredients, but use what works best for you.  this is a great thing to make on a Sunday to use in the future.   Meatballs are often a necessity with this sauce for a crowd pleasing meal.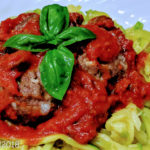 1 medium yellow onion, diced
1 medium bell pepper diced
2 cloves garlic, minced
1 tablespoon olive oil
2 tablespoons dried basil
2 tablespoons Italian seasoning
2 tablespoons dried Greek oregano
1 teaspoon Kosher salt
1/2 teaspoon cayenne pepper (or to taste)
4 15 ounces cans organic tomato sauce
1 14.5 ounce can organic diced tomatoes
1 6 ounce can organic tomato paste
1/4 cup low sodium chicken or vegetable stock
1/4 vodka (optional)
Sweat the veggies in the olive oil, add the dried herbs and cook for about one minute.  A the tomato paste.  Make sure it has contact with the pan.  Cook for about 4 minutes.  Add the the canned goodies, the stock and the vodka. Reduce heat to low.  For a stove top cook about 2 to three hours, or in a slow cooker or multi-cooker for about 4 hours.  Serve with meat or pastas, freezer the leftovers for up to 6 months.  It won't last that long!