Sunday Marinara
I got up this morning and started a batch of marinara, rich tomato-ey goodness simmering away in the Meatballs are often a necessity with this sauce for a crowd pleasing meal.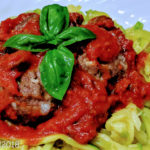 1 medium yellow onion, diced
1 medium bell pepper diced
2 cloves garlic, minced
1 tablespoon olive oil
2 tablespoons dried basil
2 tablespoons Italian seasoning
2 tablespoons dried Greek oregano
1 teaspoon Kosher salt
1/2 teaspoon cayenne pepper (or to taste)
4 15 ounces cans organic tomato sauce
1 14.5 ounce can organic diced tomatoes
1 6 ounce can organic tomato paste
1/4 cup low sodium chicken or vegetable stock
1/4 vodka (optional)
Sweat the veggies in the olive oil, add the dried herbs and cook for about one minute. A the tomatoes paste. Make sure it hase contact with the pan. Cook for about 4 minutes. Add the the canned goodies, the stock and the vodka. Reduce heat to low. For a stove top cook about 2 to three hours, or in a slow cooker or multi-cooker for about 4 hours. Serve with meat or pastas, freezer the leftovers for up to 6 months. It won't last that long!