That's a mouthful. A very tasty mouthful!
Many years ago, I was the lucky (?) recipient of government cheese. It was given to me by a cousin who simply had too much cheese, and she didn't want it to go to waste. I took it. In my short run as a lunch lady, we used the government cheese to make macaroni and cheese. So, I made macaroni and cheese, baked, with onions and pasta. It was quite delicious and my family loved it. We had it frequently so the five pounds of government cheese wouldn't spoil.
Then, at my demo kitchen job, we made a green chili tortilla casserole, similar to King Ranch Chicken. It helped us sell cases and cases of green chili stew, which was the base for the casserole.
Somewhere between then and now, I came up with this odd mash-up of macaroni and cheese and green chili casserole. And I surprised myself! But I'm never satisfied, so I kept trying to improve my recipe.
Hatch chili season rolls around once a year, and ton of those peppers make their way to Texas supermarkets, and are snatched up by everyone. I love them roasted, raw and sauteed. This season also coincides with tomatillo season. Again, a beautiful fruit that's tart and pairs perfectly with chilis of all types. So, I made it. To be very honest, the first time I tried the recipe was day I made the video. My friend and consultant was equally surprised and broke his fast to try it, then finished the pretty plate.
This does take extra time, but really, it isn't much more than the any mac and cheese from scratch. The roasting took about 30 minutes, but I was also grating cheese, cutting onions and cooking the macaroni. When the chilis and tomatillos were done, I was prepping the casserole. The little bit of extra time was devoted to peeling and seeding the chilis and cutting up the tomatillos.
There are some options, if you can't find the ingredients. The chilis and tomatillos are seasonal, but substitutes are possible. Options for chilis include Anaheim, poblano and other somewhat mild ripe chilis. My preference are Anaheim chilis, because they are genetically close to Hatch. And you can substitute the tomatillos with green tomatoes. Or buy a can of tomatillos. I found them on Amazon, and also, check into Mexican and Latin American markets. Just open the can, use what you need and freeze the remainder for future use.
And, one more thing. This recipe doesn't have to be made as a gluten free recipe. The basics, cheese sauce, and everything else work using all -purpose wheat four and ordinary macaroni. However, I actually prefer the Banza chickpea pasta for its flavor and texture.
I do use a shortcut version of this recipe and you can find it here. It's a boxed mac and cheese with green salsa. Consider this as a faster recipe. But it still takes 45 minutes in the oven.
Hatch Chili Tomatillo Macaroni and Cheese
6 ounces gluten free macaroni
4 ounces monetary jack cheese
4 ounces mild cheddar cheese
2 tablespoons sour cream
2 tablespoons gf flour with xanthan gum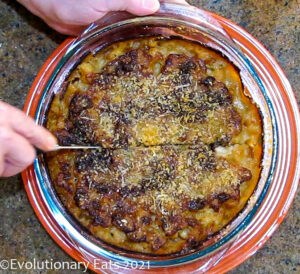 2 tablespoons unsalted butter
½ teaspoon freshly ground black pepper
1 cup milk
½ cup diced onions
4 roasted hatch peppers
3-4 fresh tomatillos roasted
Kosher salt to taste, about ½ teaspoon
½ cup gf bread crumbs
½ cup grated parmesan cheese
Preheat the oven to 375 degrees.  Rinse the chilis and tomatillos.  Roast over medium heat for about 30 minutes, turning every 10 minutes.  When roasted remove to a sheet pan and cover with foil.  Rest for 10-15 minutes. These can be roasted on a stove top grill pan.  While roasting, prepare all other ingredients.  Cook the pasta to texture and taste; drain and reserve the liquid.  Shred the cheese, (bagged shredded cheese can also be used).  Dice the onions.  In a small bowl combine the bread crumbs and grated parmesan cheese.  To prep the casserole dish, spray generously with non- stick spray.  Add half of the breadcrumb and cheese blend and shake and turn the dish to thoroughly coat the sides and bottom.  Set aside.  Peel and remove the seeds from the chilis and chop.  Chop the tomatillos; try to retain as much liquid as possible.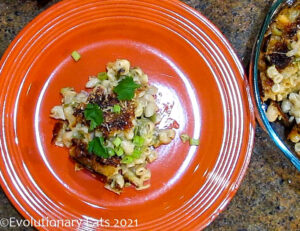 Heat a non-stick pan over medium heat. Add the butter and onions. Reduce the heat and cook for about 5 minutes or until the onions are translucent. Add the flour, whisk to remove any lumps. Add the milk a little at a time and whisk continuously. Once the milk is fully added, cook over low heat for 2 minutes. Add the sour cream, cheese, and black pepper stirring constantly. Add the peppers and tomatillos and stir to combine. If the mixture is a little too thick, add ¼ cup of reserved pasta water and stir. Add the macaroni and stir to combine and thoroughly coat. Taste and add salt and pepper, if needed. Turn the mixture into the casserole dish and even out the top. Sprinkle the remainder of the breadcrumb mixture evenly over the top. Place on the middle rack in the oven and bake for 45 minutes.
Once baked, remove from the oven and allow it to rest about 15 minutes. Cut into 8 portions. To serve, top each plate with cilantro and scallion tops if desired.