What is all this hot and dirty food you're making, Lu?
Well, I was working on a recipe for a cocktail for a work project and was inspired to figure out some uses for the rest of the bottle of margarita mix.  I knew that the mix I wanted to use for the cocktail was really tasty and wasn't so sweet it would ruin a savory dish.  I found Serrano stuffed olives, and because I love olives in just about anything (who doesn't?) the concept of recipes using some high quality ingredients as a shortcut to delicious was overdue for me.  Using a sugary beverage mix to make guacamole is a novel idea, and has the potential to fail in an epic manner.  But the mix is very simple; water, lime juice, sugar, and non-alcoholic triple sec.  The odd ingredients here are the sugar and triple sec.  Balancing those with olives stuffed with Serrano peppers, some of the salty brine and fresh lime juice seemed to work in my head.  I just needed to test it.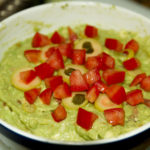 I have a classic guacamole recipe that never fails. So I started with that recipe. I deleted a couple of things, like cayenne and onion powder. Initially, I reduced the lime juice, but ended up using all of what I would use for the original recipe. The olives add a bit of umami, spice and subtle saltiness, and a firm texture that is a nice surprise. Although this is a delicious appetizer and chip dip, it makes an even more delicious salad. There is no need to add any salad dressing. The guacamole is creamy and full of rich flavor. It is sweeter than a typical guacamole, but not in an unappetizing way. The sweetness adds a distinct balance of flavors. And having some sweetness in spicy foods balances out any bitterness from the peppers.
So why have a series of hot and dirty recipes? It's inspired by the dirty martini. It's a beautiful cocktail with a clean dry flavor, accented by either an olive or onion. I prefer mine with ice cold vodka and a hint of dry vermouth. Then, we mess up this incredible cocktail with the brine from the olive jar. Honestly, it makes sense if you are served a less than tasty gin or vodka. My little work project is about sales, and since my true calling is food, not booze (the booze is a sideline), it seemed like a good idea to include some cross merchandising on a small scale. And because of Texas laws, liquor is not sold in grocery stores, so to make the cocktail the alternative is agave wine. Agave wine is the precursor to tequila. The agave wine sold in my store is decent and a Reposado. I'm a tequila fan. I have several bottles. I like to cook with it as well as drink it. And, see above, I love olives. I like to snack on olives while I drink tequila. The margarita mix was the challenging part, because everyone needs to challenge and test themselves. It all just seemed to fall into place.
Enjoy this recipe and the others, and you porn seekers are at the wrong website. Unless you're looking for food porn. 😉
Hot and Dirty Guacamole
This is a delicious chip dip and it makes a very tasty salad! Just shred some romaine lettuce and add a scoop or two of the guacamole. Garnish with pepper stuffed olives, diced tomatoes and fresh cilantro. No salad dressing required! And it's just one more use for that big bottle of margarita mix!
4 medium ripe avocados
2 tablespoons serrano stuffed olives
3 tablespoons fresh lime juice
1 tablespoon margarita mix
1/2 teaspoon ground cumin
1/2 teaspoon garlic granules
¼ fresh ground black pepper
1 teaspoon kosher salt
¼ cup onions, small dice
½ cup tomatoes medium dice
Cut the avocados open lengthwise and remove the pit. Scoop avocados into a bowl. Add cumin, salt, pepper, lime juice, garlic and olive juice. Mash to a smooth chunky consistency. Stir in the olives, tomatoes, and onions. Adjust the salt pepper and lime juice to taste. Cover with plastic wrap, making sure the wrap makes contact with the avocados to prevent browning. Chill one hour before serving. For a great side salad, shred or chop romaine lettuce on a salad plate and a guacamole. Garnish with diced tomatoes, olive slices and fresh cilantro.