This is a quick version of macaroni and cheese with green tomatillo salsa. It can be baked for a crispy crusty casserole, or just served directly from the pan right after cooking. I prefer the baked, but either way, it's delicious, and everyone will love it!
Go here for the Hatch Pepper Tomatillo Macaroni and Cheese recipe.
This a strange casserole, sort of a mash up of macaroni and cheese and tuna casserole. This a lazy night way to have a meal on the table in an hour, or less if you skip baking. It has some veggies, protein and starch, and extra cheese to make everyone happy. I use a gluten free deluxe boxed macaroni and cheese, but any deluxe mac and cheese works. When you drain the pasta, skip rinsing and reserve the liquid, just incase the sauce needs extra moisture.
Quick Baked Macaroni and Cheese with Green Chili Salsa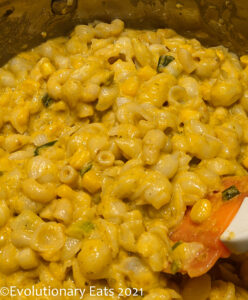 1 box deluxe macaroni and cheese, (I like Annie's).
2 tablespoons unsalted butter
1 cup whole kernel corn, frozen or canned, drained
1 7 ounce can or 1 cup green salsa
1 cup shredded gouda cheese
1 7 ounce can tuna or chicken, drained and flaked, optional
½ teaspoon freshly ground black pepper
½ cup plain breadcrumbs
¼ grated parmesan cheese (optional)
Non-stick cooking spray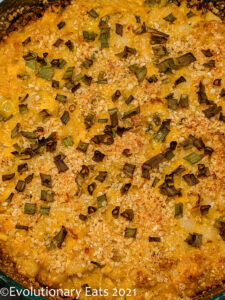 Preheat the oven to 375 degrees. Prepare a casserole dish by generously spraying the bottom and sides with non-stick spray. Add the bread crumbs and turn to coat the bottom and sides thoroughly. Cook the macaroni according to package directions. Drain, reserving the pasta water. Set the pasta aside. In the same pot, add the butter and onions, cook over low heat for one minute add the packaged cheese sauce, corn, salsa and gouda cheese. Stir to combine. Add the canned meat and black pepper stir to combine. Add pasta water 1 tablespoon at time, if needed. Add the pasta and stir to combine. Turn the macaroni into the casserole. Bake for 45 minutes. Remove from the oven the rest for 15 minutes before cutting. Cut into 8 pieces. Serve with a garnish of parsley, if desired.