Grilled Sweet Potatoes
About 4 servings
2 large fresh sweet potatoes
1 tablespoon vegetable oil or melted butter
2 teaspoons chili powder or creole seasoning of choice
¼ teaspoon salt (optional if the seasoning blend does not contain salt)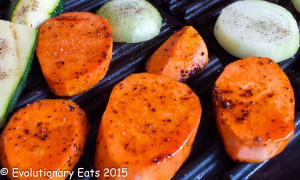 Peel the potatoes and cut into ¼ inch slices on the bias (or at an angle). Place the potatoes in an even layer on a plate or baking sheet. Blend the seasoning with the oil or butter and coat the potatoes liberally on both sides. Add more oil if needed. Grill for about 5 minutes per side, or slightly softened and with good grill marks.
This recipe can be made in the oven. Using all the same ingredients, prep the sheet pan with cooking spray. Preheat the oven to 425 degrees. Cook the potatoes for 17-20 minutes, turning them over once.
I love this with a chili coffee rub. The smoky coffee flavor is very nice with the sweet potatoes.