I like to eat dessert first sometimes.
Alas, with this gluten intolerance and wheat allergy, I make fewer deserts than I used to. But I have also adapted several recipes to keep my belly and my soul happier.
When I was a little one (what my mom called her youngest two kids), my mom made pies for people. I was her little assistant. After forming the crusts, my tiny fingers made the crimps in the crusts, and as a reward, mom would make a crust cookie out of the scraps after trimming the edges of the crusts. This was often a daily occurrence, and know I had a lot more cookies than my siblings who had to go to school. I think this is where my passion for cooking and especially baking was born. Mom never really followed a recipe, but her pies were unbelievable. She always used lard, a few drops of ice cold water and a few drops of vinegar. She measured the flour for the crusts with a coffee cup, cut the lard with a butter knife and everything else was done by feeling the texture of the dough. If the house was hot and humid, a little less water, but a little more in the winter. Her specialties were apple, made with tart apples and pumpkin. But she also made meringue topped lemon and other custards. Just like so many other cooks, she struggled with a weeping meringue from time to time, but the custards were delicious and creamy. Her methods of cooking were classic, and learned through years of many children and much work. A few years ago, I received a coy of the book Ratio: The Simple Codes Behind Everyday Cooking. It reminded me of her cooking methods.
This will sound really strange, but I never liked the pie crusts unless in the form of cookie dusted with sugar and cinnamon. My favorite pies were the pumpkin, and somehow I committed the changes she made to the recipe on the can to recreate that pie perfection. I would slather the pie with whipped cream and scoop out the custard, leaving the crust behind. Everyone thought I was strange, because as crusts go it's the best I've ever had.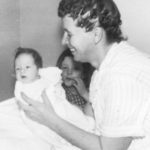 My sisters and I all picked out our favorite foods to bake. At one point I dabbled in all of it, pies, cakes, tarts and custards. But my favorite desserts are cookies, cheesecakes, and custards. I freely admit to using cake mixes, I can make the classic pie crust, but it's so much easier to just buy a frozen shell. And there's the whole thing where I haven't figured out how to make a gluten free pie crust. Yet.
This is for Mom, the woman who let me play and bake in her kitchen and didn't complain too much when I made a mess or didn't clean it all up. She let me dig through all the old recipes and cookbooks for the perfect dessert, because she knew what I really loved was not the savory meals, but the custard in the pie crust. She kept the pantry and shelves loaded with flour, sugar and chocolate to pursue the trials of baking. Thanks for all the pie and cookies!