Chicken Piccata
A customer asked me for a very common question – "I need a dry white wine for cooking. Can you show me one?" My reply is always, "What are you cooking?" Most of the time is simple creamy sauces and they have the recipe handy. This time the customer gave me a detailed response. It was Chicken Piccata. Never having made it, I was interested, especially after she said capers and lemon. I was hungry for a good recipe using lemons and capers. I was inspired, and by the end of the shift, all of the ingredients were nestled in my shopping cart, and I was ready to cook! And I recommended Lindeman's Bin 85 Pinot Grigio. Bright and refreshing, and it's inexpensive enough that I don't feel guilty cooking with it.
I started looking on the internets for a basic recipe, and found a few, but I knew I would end up creating my own gluten free version. And there weren't any gluten free versions popping up. My other criteria was to make it kosher. No kosher versions appeared, so making my own kosher gluten free version was the path.
The recipes all used either pasta or rice. I don't eat rice often and I'm trying to avoid the carbs whenever possible, so I was glad that yellow squash was in the above noted shopping cart. Summer squash noodles!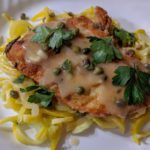 Below is my first attempt at the recipe.  It needs some small tweaks, but the overall result was very good, and should get better.  Two issues were that the rice flour didn't get a nice brown color when it was cooked, and the gravy was first, too thick, then too thin, and took longer to gel than expected.  Again, I used white rice flour and in the final recipe, it will be adjusted or changed.  The recipe follows, but come back for updates!
Chicken Piccata 4 servings
Kosher, Gluten Free
4 6 ounce chicken breasts, (see note below)
1 cup white rice flour
1 teaspoon salt
½ teaspoon black pepper
½ teaspoon granulated garlic
2 tablespoons olive oil, not the good stuff!
2 tablespoons Flieschmann's Original Soft Margarine, or other gluten free soft margarine. If you aren't keeping kosher, use butter!
1 Shallot or ¼ cup sweet onion, small dice
¾ cup vegetable or chicken stock
¾ cup dry white wine, Pinot Grigio recommended
Juice from one lemon, about 3 tablespoons
Zest of one lemon, for garnish
¼ cup drained capers
1 bunch fresh Italian flat leaf parsley
Preheat oven to 300 degrees. In a shallow pan, combine rice flour, salt, pepper and granulated garlic and set aside.  Dice the shallot, zest and cut the lemon and set aside.  Place the chicken breasts between two layers of plastic wrap, covering them completely.  Using the flat side of a meat mallet or a rolling pin, pound the meat to about ¼ inch thick.  Dredge the chicken completely in the rice flour mixture.  Heat a 12 inch heavy skillet over medium heat and add one tablespoon each of the olive oil and margarine.  Place two breasts in the pan, and cook for about 3-4 minutes or until light brown, turn and cook another 3 minutes.  Remove to a sheet pan and cook the other two breasts.  This is a good time to check the internal temperature.  It should be at about 150 degrees or more.  Remove the chicken breasts from the skillet to the sheet pan and put them in the oven.
Sauce: While the pan is still hot, add one tablespoon of oil and one tablespoon of margarine to the pan. Sprinkle in three tablespoons of the remaining rice flour mixture into the pan and whisk to make a soft paste. Add more as needed. Add the shallots and cook for 1 minute. Add the stock and whisk to deglaze the pan. Add the wine and lemon juice, increase heat and bring to a low boil. The sauce should begin to thicken. Reduce heat and simmer for one or two minutes. If the sauce seems very thick, add ¼ cup water and stir. Add one tablespoon of chopped parsley leaves, and remove from the heat. Place each chicken breast on a bed of pasta or summer squash noodles, spoon sauce over the chicken and garnish each with 2 teaspoons of capers a dusting of lemon zest and a few whole fresh parsley leaves.
Note: If you can't find small whole chicken breasts, purchase about 1 ½ pound boneless skinless chicken breasts and butterfly them into 4 smaller portions. 1 ½ pounds is usually 2 large 12-14 ounce breasts.