My Personal Meatball History
As a kid, my mom never made meatballs, unless they were stuffed into cabbage or kaldunis (perogis). With five kids, she just didn't have much time to roll all of the meat necessary to feed a family of seven. Her spaghetti sauce was usually made with ground beef, tomato juice, and the usual vegetables. I know we are supposed to love our mother's food, but this was one I could not eat. It was always greasy, the pasta was always mushy, and she loved black pepper. I just couldn't.
When I met my first husband he raved about his mother's meatballs. I was soon invited to Sunday dinner and it was spaghetti and meatballs. The meatballs were massive! Each was at least a quarter pound, and a combination of beef and Italian pork sausage. There were finely diced bell peppers and onions, and fresh garlic. She added healthy amounts of herbs and crushed red pepper flakes. The sauce was simmered all day and made with tomato sauce, tomato paste, and whole tomatoes. It was also heavy on the herbs and spices. I could eat this, but I'm such a wimp about hot and spicy foods, it was impossible to eat very much. At future meals, I opted for half of a meatball and loads of cheese on the plate to temper the heat.
There were many times after I was married I tried to re-create the mixture, but always failed. I finally opted to learn how to create my own meatball recipe. The original was a classic Italian style without the pork, but heavy on the herbs and garlic. The size was much smaller as well. I stayed away from too much heat and instead put a shaker on the table with the flakes. I liked this, and everyone else was happy with it.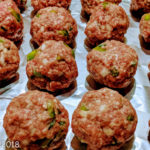 Then on to the rest of my life, I wanted to just make food I could freeze, so I came up with this very simple recipe. Years ago, I quit pan frying the meatballs and started to bake them. The cooking was always more even, and the balls were always tender and juicy. For a basic meatball, I got rid of all the herbs and now stick with salt, pepper, onions, and bell peppers. If I need Italian meatballs, I can make those as a separate recipe. Add to the basic recipe, 2 tablespoons Italian seasoning, 2 tablespoons oregano, 2 teaspoons each of granulated garlic and onion, and 1 tablespoon basil. All herbs should be of the dry variety.
Another ingredient I deleted is bread crumbs. There were two reasons: I don't eat wheat anymore and the smaller balls don't need the crumbs to hold them together. Plus, why add extras that aren't really necessary?
The meatballs are something I can keep in the freezer, and if I'm not feeling like cooking, I'll pop a few into the microwave with fresh or frozen veggies for a very quick, simple single lady meal.  And with the Sunday Marinara also in single portions in my freezer, I can have a very delicious healthy meal in under 15 minutes.  Add a glass of red wine, and it's a very nice evening!
Everyday Meatballs
2 pounds lean ground beef
2 large eggs lightly beaten
2 teaspoons salt
1 teaspoon ground black pepper
1 teaspoon granulated garlic
1 medium onion small dice
1 small green pepper small dice
Cover a large sheet pan with foil and spray or brush with oil. Preheat oven to 350 degrees. In a large mixing bowl, break up the ground beef gently. Add each ingredient, and mix with your hands to combine, making sure all ingredients are equally distributed. Use a scoop and drop onto the sheet pan. Form each scoop into a ball. Place the pan in the oven and set the timer to 15 minutes. Turn balls and bake another 15 minutes or until the temperature reaches 160-165 with an instant read thermometer. Once cooled the meatballs, can be added to any recipe or for future use, bag them up, remove as much air from the bag as possible and use within six months.