Squash Noodles
If you need more vegetables and fewer starches, this is for you! Although it's pretty tough to beat a plate filled with spaghetti and meatballs, using this is a healthy substitute. I had to find ways to eliminate wheat and gluten from my diet, and this is my first choice. Don't get me wrong, I still eat gluten free noodles, but I can always eat more vegetables.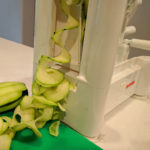 The noodles are very easy to make.  You will need one tool.  It's a vegetable spiralizer.    I have a three blade model, and it's more than enough for most recipes.  The easiest models to use are countertop style.  Mine has suction cups on the feet which prevents it from sliding around.  I can make a vermicelli style, a thicker spaghetti style or long flat noodles.  I almost always use zucchini or yellow squash as a substitute for pasta.  The squash is easy to use and cooks quickly.  If you don't have a spiralizer, you can peel the veggies into long strips or cut into thin slices.
Adding flavor to the squash is very simple. I use the oil from my Garlic Confit recipe. And if I don't have any, I created a hack to get a lot of flavor into the oil quickly.
Squash Noodles
Make 4 servings
3-4 zucchini or yellow squash, about 2 pounds
1 teaspoon salt
¾ teaspoon black pepper
3 tablespoons olive oil
2 cloves garlic, peeled and sliced very thin.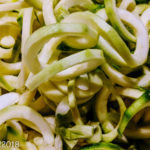 Wash and peel the squash. I only peel if it's not organic. Spiralize or thinly slice the squash. Heat a large skillet over medium low heat. Reduce heat and add the oil and evenly place the garlic slices in the oil. Allow the garlic to poach for about 4 minutes. There shouldn't be any bubbling or browning. The garlic will be soft. Remove if desired to toss with the noodles later. Increase the heat and add the noodles in batches. Don't overcrowd the pan! Sprinkle in a little salt and pepper in each batch. Toss frequently, allowing the noodles to cook evenly. Cook until al dente or desired texture, but not soft and limp. Place cooked noodles in a large glass mixing bowl. Once all the noodles are cooked and in the bowl, sprinkle in any leftover salt and pepper, and the garlic. Toss to mix it in evenly. Serve hot as a side dish or base for sauces.