Grilled vegetables are amazing, and don't require much in the way of seasoning or sauces. I like my very simply prepared with salt, pepper, and a touch of oil or melted butter to prevent sticking. Plus, it reduces the clean up when preparing an entire meal on a grill.
Easy Grilled Zucchini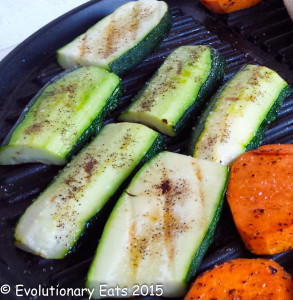 Serves 2
½ pound zucchini, or one medium to large
¼ teaspoon salt
¼ teaspoon pepper
1 tablespoon cooking oil
Heat or prep grill or grill pan to medium high heat. Peel the zucchini on two sides. Remove the ends. Cut the zucchini in half to make two shorter pieces. With an unpeeled side facing up cut the squash lengthwise into ¼ inch planks. Lightly brush each plank with oil on each side, then sprinkle on the salt and pepper on both sides. Brush the grill with remaining oil to prevent sticking. Place the planks on the grill and cook for about 3 minutes per side or until the zucchini is tender crisp with grill marks (makes them look better).