This recipe is a family favorite
Over many years, I've made variations on this for events and large family reunions. It's easy to scale up or down, and swapping out the bone in chops for a pork loin roast, or a whole pork loin for larger groups. To increase the salsa, just grill some peaches and multiply for larger groups. The salsa can be made a day or two ahead, and the pork can be prepped and refrigerated for up to three days in advance. Chicken breasts can be substituted for the pork as well, but add a pinch or two of rubbed sage.
This recipe is written for two servings.
The Salsa
1 large Mango, ¼ to ½ inch cubes
2 scallions, sliced, tops reserved
½ cup roasted red pepper, diced
1 or 2 teaspoon finely chopped jalapeños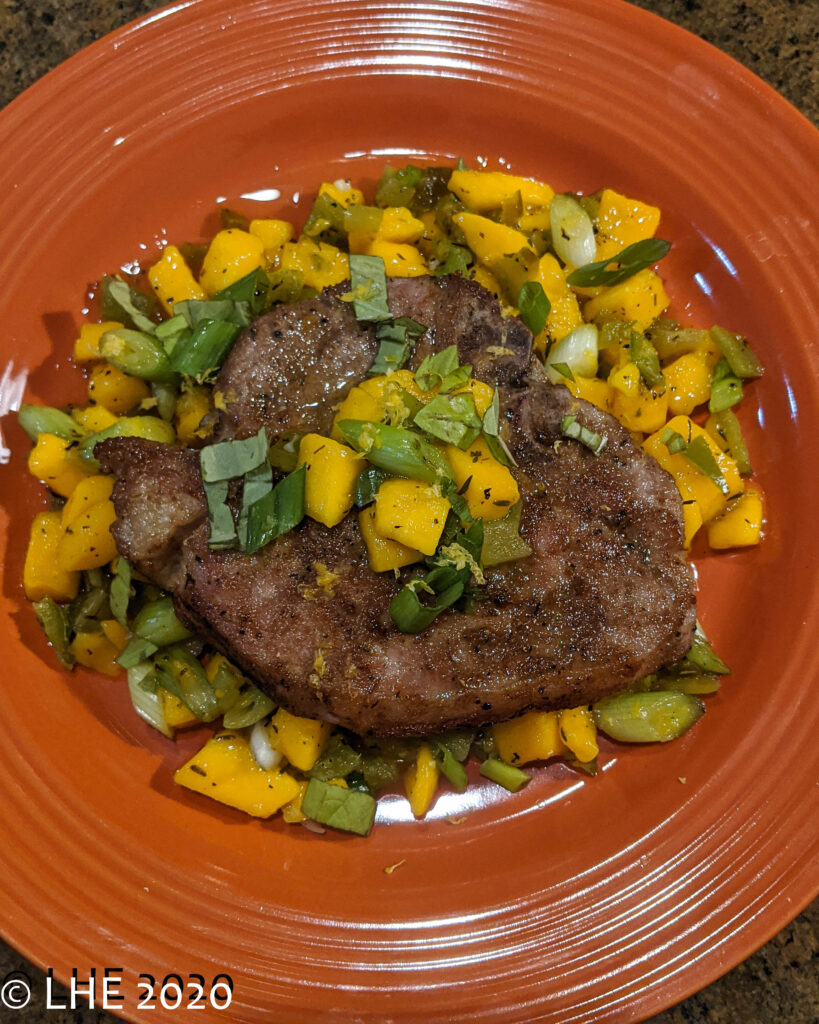 1 lemon, zested
½ teaspoon dried thyme
1 large basil leaf, torn or sliced
The Rub
½ teaspoon ground coriander
½ teaspoon granulated garlic
½ teaspoon granulated onion
½ teaspoon ground cumin
½ teaspoon kosher salt
½ teaspoon cayenne pepper
¼ teaspoon dried thyme
¼ smoked paprika
¼ teaspoon cardamom
¼ teaspoon black pepper
2 tablespoons brown sugar
The Garnish
Sliced scallion tops
Lemon zest
2 large basil leaves sliced or torn
A few drops of fresh lemon juice
2 – 1 inch thick bone-in pork chops, about 8 ounces each
In a medium bowl, combine the mango salsa ingredients, add juice of one half of the lemon and 1 teaspoon zest. Stir, cover, and chill for one hour. Combine the rub ingredients and rub the pork chops on all sides. Cover and allow to rest for 1 hour. The pork can be prepped up to three days in advance.
Preheat your oven to 300 degrees.
Heat a large saute pan over medium high heat and add 2 tablespoons cooking oil. Reduce the heat and add the chops. Cook for 3 minutes per side. Turn the chops on their sides to render any fat and brown. Place the chops on a wire rack in a baking sheet. Finish cooking in the oven for 15 minutes or until the internal temperature reaches 135 degrees. Rest at five minutes before serving. Plate on a nest of the mango salsa and garnish with basil, lemon zest, thinly sliced scallion tops and a drizzle of fresh lemon juice.