King Ranch Chicken Is Not For Me
I asked a friend what he would like me to either work on or make a video of, and he said, King Ranch Chicken. He told a very sentimental story of his mom making it for him before going to sporting events, or making it for a meal and them eating it for days. I have never made or eaten King Ranch Chicken. And after making it, I will probably never make it again, unless requested for some party or group.
When researching this recipe, it's clear that it did not come from the famous King Ranch in Texas.  It is very similar to many casseroles of the 1950's when canned soups and convenience cooking became popular.  In a 1975 copy of a Campbell soup cookbook, there is a recipe that is nearly identical to the King Ranch recipe published almost everywhere.  All seem to lack the unique addition of tomatoes with green chilis aka: Rotel Tomatoes.  However, if I were creating the recipe in the 1970's using cream of mushroom soup and tomato soup would have been the more routine and classic casserole formula.
This isn't a recipe that I would even consider working with or changing, other than making it gluten free. I attempted to elevate it a bit with fresh mushrooms, mild pickled jalapenos, and fresh cilantro leaves. But none of it made it any better for me. When trying to make it better, I found that adding a dollop of sour cream made it much more palatable.
I understand why people love this recipe. But as a super-taster, this is an umami bomb. With tomatoes, chicken and creamy sauce, it's pretty flat and boring. The addition of pickled jalapenos wasn't enough. And I've never been a fan of creamy tomato sauces or cream of tomato soup. Maybe it's my childhood of tomato soup and bologna sandwiches every day for lunch.
Although I really don't like this recipe, if you like King Ranch Chicken and need a gluten free solution, the recipe works. It's easy to increase, easy to make substitutions and add or reduce the heat level. It's a great recipe to make ahead, and personally, that's what I would do, because it takes time to make this version, about an hour and a half. I was surprised by that as well as the number of dishes involved to get it done safely, and this was annoying because I don't like to wash dishes! I used fresh chicken tenders, but pre-cooked frozen chicken or rotisserie chicken from your favorite supermarket will work as well, and save some time. Chop the chicken instead of shredding it for better texture and chew factor. Here's my recipe.
Gluten Free King Ranch Chicken Casserole
Makes four servings, preheat the oven to 400 degrees
8 ounces fresh chicken or chopped pre-cooked chicken
½ cup diced onions
½ cup diced bell pepper, red or green
4 ounces fresh mushrooms, chopped
1 tablespoon gluten free white rice flour
1 tablespoon gluten free flour blend with xanthan gum
2 tablespoons cooking oil, more as needed
1 cup milk
½ cup vegetable or chicken stock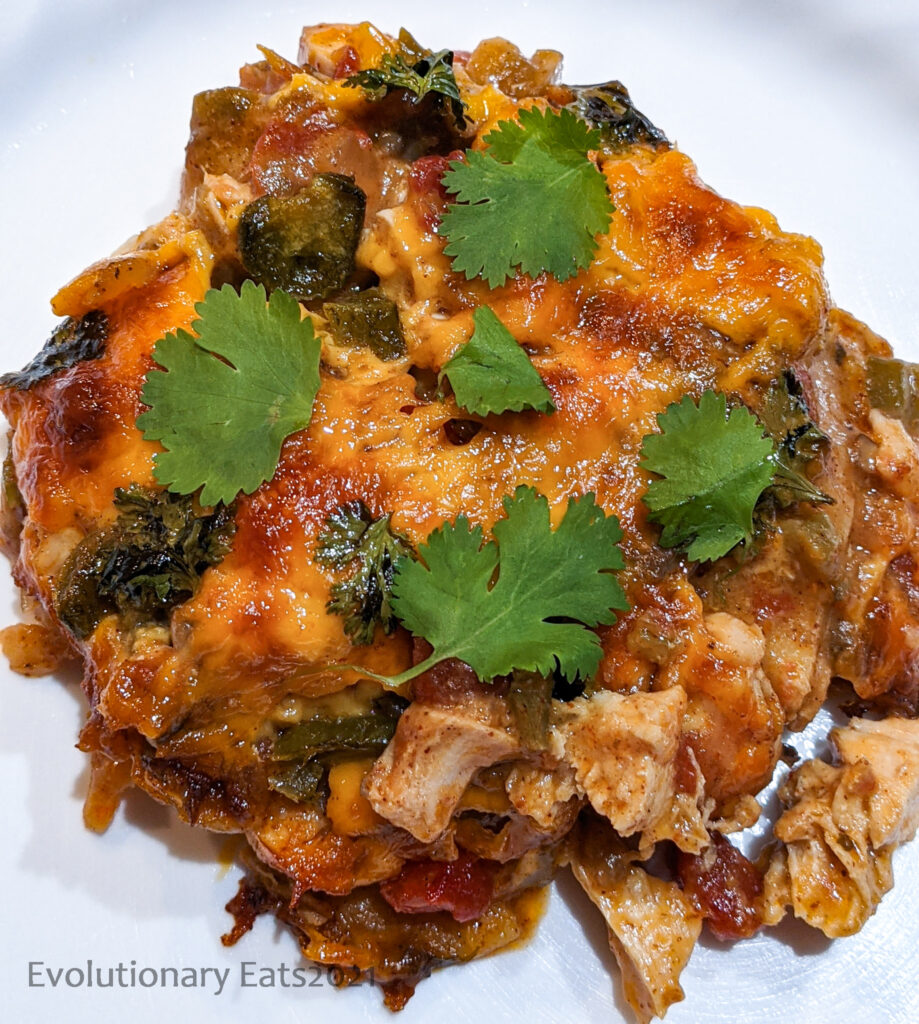 2 teaspoons chili powder
1 teaspoon kosher salt
1 teaspoon fresh ground black pepper
½ cup canned tomatoes with green chilis, Rotel or similar
¼ cup pickled jalapenos, half chopped, half for garnish
6 corn tortillas
1 cup shredded cheddar cheese
Cilantro for garnish
Sour Cream For Garnish
Spray a nine-inch square baking dish with cooking spray. Heat a skillet over medium heat and add half of the oil. Cut three tortillas in half and two in quarters; set aside. Add the onions and peppers to the skillet and reduce the heat to medium low. Sweat for about two minutes and add the mushrooms, and sweat for five minutes stirring occasionally. Add the rest of the cooking oil and the flour. Stir to combine. Add the milk, over low heat, stirring constantly until the sauce is smooth and beginning to thicken. Add the tomatoes and the chopped jalapenos, and continue stirring constantly, allowing the liquid to reduce. Add the stock and simmer, stirring occasionally for about three minutes. Add the raw chicken and cook until almost fully cooked. Or add the cut up precooked chicken. Remove the chicken and cut into bite sized pieces, or you can cut up the chicken before cooking.
Use a small amount of the sauce to lightly cover the bottom of the baking dish and cover with four half tortillas and one quarter tortilla. Top with small amount of the cheese, if desired. Cover with half of the sauce, add a layer of tortillas using the rest of them. Add the rest of the sauce, leveling it out as needed. Top with the rest of the cheese jalapenos and a few cilantro leaves. Bake in the oven for 40 minutes or until bubbly. Remove, let rest for 10 minutes before cutting into four pieces. Top each serving with a few cilantro leaves and sour cream. Make this ahead, refrigerate for up to three days before reheating for serving.