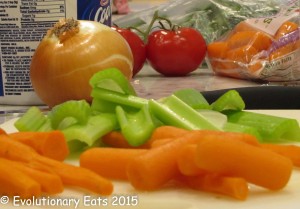 It's Okay to do Food Assembly
It's that time of the week again – it's time to plan the weekly trip to the grocery store! When I talk to customers, this is the one thing that they seem to neglect. Because I worked in a supermarket, I've seen a lot of confusion; many customers came to me looking for meal ideas for the week, easy recipes, and just a quick fix to the problems of picky eaters and very little time. This is a chore that, with a bit of planning, can become a pleasant trip rather than an unpleasant chore. The method I use takes a bit of time and effort to plan. Once set up, the weekly trip becomes easy to plan and can actually be fun. You can watch my video here!
I always start with three questions:
1. What do and your family like to eat?
2. How much time, effort and money are you able to budget for the preparation of the food?
3. How many meals do you have to prepare for yourself and your family?
1. Make a list of everything you and the family like to eat. It doesn't matter if it's homemade, from a restaurant or from a supe

rmarket. Break it down by the meal times; breakfast, lunch, dinner, snacks.
2. Figure out how much time you have to spend cooking or assembling food. This is very important.
3. Finally, list the meals that are eaten in your home everyday and who eats them. Most days, we eat two or three meals per day, plus snacks. Breakfast, lunch and snacks are what I term as automated. Breakfast can be hot cereal, eggs, smoothies, yogurt and cold cereals, coffee and juice. Each member of the household is responsible for making his or her own breakfast. Snacks are fruit, nuts, cheese, and fresh veggies. For lunch, it's soups, salads, sandwiches, or leftovers. Again, an automated plan where we all fend for ourselves. When I make my shopping list, I know what to list to make the auto-meals. I put the majority time and effort of meal planning to the evening meal. We try to set aside the time to talk, and enjoy each other's company. So, my weekly dinner menu has a set location on my list.
There are three basic methods of meal preparation. This is not about techniques but about the way everyone approaches the preparation of the food they eat.
1. The first and oldest is scratch cooking. Scratch cooking means that every aspect of the food is prepared from beginning to end without the use of convenience products.
2. On the opposite end of the scale is food assembly. This is when all food is either pre-cooked, pre- washed, out of a bottle, a can, or the freezer and then heated, sauced and put on a plate.
3. Somewhere in the middle of the scale is the combination of the two. By observing shoppers, most people fall into this category, as I do. For me, it means that I often bake my own bread, make my own homemade desserts, make many of my own stocks and sauces, but I buy bags of pre-washed lettuce, and frozen veggies, and some canned items.
It's very important that you are very honest about how you like to prepare a meal. Food assembly is perfect for many people, and you really may not like to cook. I personally always keep around several items for 'punt meals'. This is my food assembly. Right now I have jars of pasta sauce and soups, canned tuna and chicken, frozen pre-cooked burgers, and more. I have a job, I'm trying to get a business off the ground (thank-you for visiting), and sometimes I don't want to cook, clean up, or look at a recipe. Even chefs need a break from the kitchen!
Next, make a list of at least 14 entrées and sides that you and the family like to eat. This is especially important if, like most of us, you want or need to stay on budget. When you make the list, remember your meal preparation style. Remember that most supermarkets have a wide variety of meals and foods to fill your basket. Once you have your core list, consider adding a new meal or entrée every month. It will allow you to cook more seasonally, and expand your menu options.
Once the core list is done, post the list somewhere that is visible to everyone in the house. I keep my current list on the refrigerator. This way, when making the weekly shopping list you can pull from the master menu what you want to prepare each week. Although for the shopper, keeping the list on a smart phone or tablet can make shopping easier, it prevents anyone else in the house from seeing the options. Including kids and spouses in the shopping and food preparation process is empowering and allows kids to learn more about what they are eating and how to prepare it. If you have that meal list and know where to find the recipes, it makes creating the shopping list very fast. Once you have your recipes memorized, making the shopping list becomes faster each time you do it. It will require a bit of extra effort at the start, but once the initial steps are completed, it makes shopping nearly effortless.
It is now time to make your shopping list. Here's a tip: keep a notepad or some paper and a pen on the refrigerator or pantry. When you notice you are out of a staple or close to running out of an item, write it on the list. Write down all the ingredients you need for your recipes. You can download and print my list here. If you like to use your smart phone or tablet when you shop, do so. Because I started shopping before the typewriter was extinct, I like the paper and pen method when I shop. I can scratch off an item, if the store is out of the item, I can leave it on the list for the next trip. When I use coupons, I clip them to the list. It keeps the whole trip more organized. Here's a coupon tip; many stores now have apps that allow you to download the coupons to your smart phone. Save money and trees!
Lastly, I am anticipating some questions.
1. I do not care what you eat. I hope that you eat food that is healthy for you and that you always buy the highest quality that you can afford.
2. It is perfectly fine to repeat meals every week as long as you love them and don't get sick of them.
3. Don't get all stressed out about trying new things and techniques, especially if you have little kiddos, lack time, or dislike cooking. If you see a recipe you want to try, go for it! If you like to cook, be adventurous. If you are a food assembler, try new foods now and then.
Most often, cooking at home is a very calming time for me. It is my time to de-stress and enjoy the time I have to prepare a great meal. However, while raising two kids, and working full time, meals were, at times, the most stressful time of the day. I understand the need to stick to a budget. Meals should be more about with whom you share them. Time spent with those you love and care about is the most important factor in sharing food. I'm here to help you make meals easier. Whether you and your family cook together or push the buttons on the microwave together, spending time together makes the meal special.