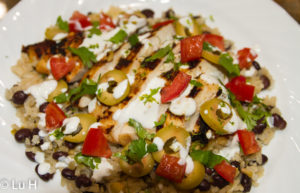 This all started with a work project. Part of my beer and wine schlepping job is to create some fun demos, and since I love to cook and play with ingredients, this is the result. Inspired by a dinner at a local Mexican restaurant 20 years ago, it dawned on me to marinate the chicken in the margarita mix. I rarely use chicken breasts, but when I do, a brine or marinade is always a part of the process. So after some thought and of course, past inspiration, this dish was created. Although there is a long list of ingredients, it's a very simple recipe with three basic steps – brine, rub and cook. When the final product was plated, my expectations were exceeded. There is beautiful balance of sweet, salt and acid, along with a touch of heat from the olives. Although it's not in the recipe, I added a simple sauce of sour cream, lime juice and lime zest to add a little more interest moisture and another level of flavor. It's something I make often for tacos, fajitas and enchiladas.
Along with the chicken, I made Hot and Dirty Rice and Beans with the margarita mix. This is the bed of the dish. Again, with the sweet from the margarita mix and the heat from the olives, it's a great compliment and side dish for the chicken. And to finish the plate, a very simple salad made with Hot Guacamole on a bed of chopped romaine and topped with fresh diced tomatoes. It was yummy!
Mexican food and Tex-Mex has been somewhat intimidating for me.  With the complicated moles and other ingredients and techniques, I didn't feel great about trying anything more difficult than good old tacos.  But with the constant exposure to this great cuisine, it has become more approachable and much more fun to experiment and try to recreate some of my restaurant favorites.  A great resource is Dianna Kennedy's The Essential Cuisines of Mexico.  She spent years studying and practicing, and if I need a great traditional Mexican recipe, it's the book I reach for.
My recipe would not fit in with traditional Mexican cuisine, but it definitely is inspired by my experiences and many meals over the years. And it will be on the menu for the next get together. Everything can be made ahead, so I get to relax and enjoy time with family and friends. And, of course enjoy one of those Hot and Dirty Margaritas!
Hot and Dirty Margarita Chicken
4 6 ounces each boneless skinless chicken breasts
1 cup margarita mix
¼ cup olive brine
½ cup fresh lime juice
¼ cup tequila
2 cups water
¼ cup kosher salt
2 tablespoons cooking oil
½ teaspoon garlic granules
½ teaspoon onion granules
½ teaspoon salt
½ teaspoon ground cumin
½ teaspoon ground coriander
½ teaspoon white pepper
8 each olives stuffed with jalapenos or serranos
Zest of 1 lime
¼ cup fresh cilantro, chopped
Trim breasts and cut to size if needed. Combine in a one gallon zip top bag or deep bowl margarita mix, tequila, olive brine, lime juice, 1/4 cup kosher salt and water. Stir to dissolve the salt. Place the chicken in the bag, and remove as much air as possible before sealing. Place the bag flat on a baking sheet, and move to the refrigerator for two hours. Blend the rub in a small bowl or shaker. Remove the chicken from the bag, rinse and pat dry with paper towels. Sprinkle the rub on the chicken on both sides and set aside. Heat a grill pan over medium heat and brush the oil on the pan. Place the breasts on the pan at an angle for the best grill marks. Cook for 2 to 3 minutes or until the chicken is well marked. Turn 90 degrees and cook another 2 to 3 minutes on the same side. Turn the chicken over and repeat cooking 2 to three minutes for great grill marks. Using an instant read thermometer, check temperature at the thickest part of the breast. Reduce heat and continuing cooking until the internal temperature reaches 165 degrees. The breast can also be moved to a 300 degree oven on a greased sheet pan to finish cooking. It's easier, but means more cleanup. Remove the chicken from the pan and cover with foil and rest for a few minutes. Slice the chicken breasts and plate on top of the Hot and Dirty Rice and Beans.