Pasta Salads are very easy to make, and there are probably zillions of versions of the side dish classic. In creating these recipes, my goal was to make them easy and delicious. Plus, I like these as a summer main dish, so the overall nutrition and flavor needed a boost.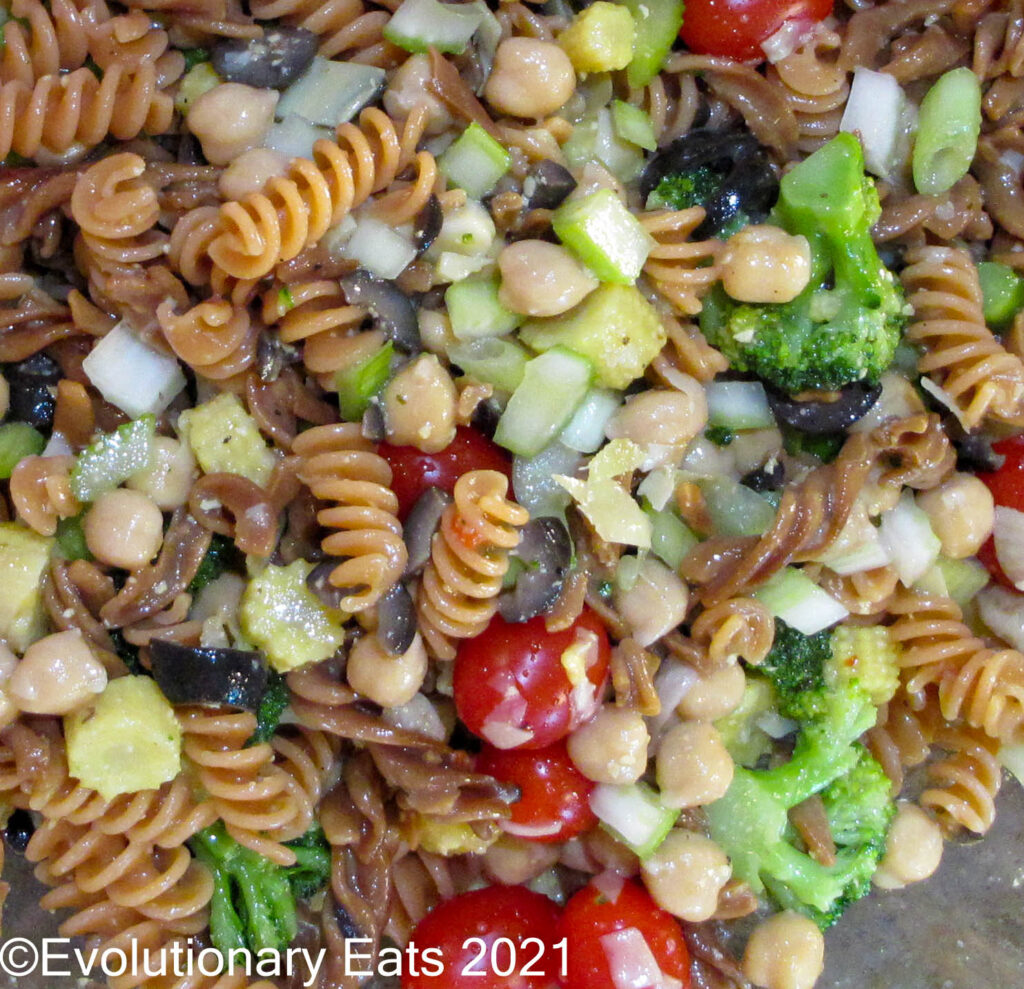 The classic salad is such a big throw-back, I had to figure out a way to love it again. I remember the macaroni and pea salad as a common side dish at picnics and summer family reunions. It's not terrible, but it can be bland, and it needed a do-over. The solution was pretty simple; add acid and heat. So, I used mild pickled jalapenos and the liquid from the jar, mixed with mayo to brighten things up.
Pasta salads need pasta.  But the variations are incredible.  Because of my food allergy, I opted for legume pastas.  These have great flavor, great nutrition and hold together even with wet sauces, much like traditional wheat flour pastas.  Rice and corn pastas tend to fall apart when used in salads or with very moist sauces and veggies.  Plus, they don't a have a great flavor or texture. There is one issue with gluten free pasta.  Cooking time.  The instructions are rarely correct, with the exception of one brand, Banza.  So, test the pasta frequently when cooking to get your preferred texture.
Pasta salads are flexible. If you don't like an ingredient, leave it out or substitute something you like. It's a great place for beginner cooks to practice, be creative and most of all, have fun!
Fancy Pasta Salad
6 ounces dry red lentil spiral pasta
1 15 ounce can garbanzo beans, drained and rinsed
1 cup frozen broccoli, blanched and chilled
3 stalks celery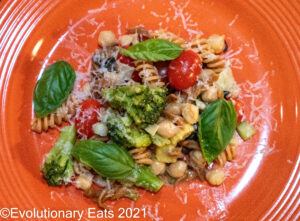 ¼ cup scallions or diced onion
½ jar baby corn, sliced (about 4 ounces)
1 jar marinated artichokes, chopped
1/2 cup black olives sliced
1 cup grape tomatoes*
1 cup bottled salad dressing, Tuscan style Italian recommended
Blanch the broccoli and cook the pasta. Chill and set aside. Dice the celery and onions. Slice the baby corn to about 1/4 inch pieces. Drain and rinse the garbanzo beans; allow to drain thoroughly. Chop the olives and artichokes. Remove any woody or tough leaves from the artichokes.
Combine all of the ingredients in a large bowl and stir to combine. Add about half of the salad dressing and stir to coat, add more if desired. The dressing should not pool in the bottom of the bowl. Taste and add salt and freshly ground black pepper, if needed. To serve, top with grated parmesan cheese and garnish with fresh basil and parsley. Keeps refrigerated for about five days.
*Substitute the fresh tomatoes with about 2 ounces of chopped sundried tomatoes.
Macaroni and Pea Salad
1 cup frozen peas, blanched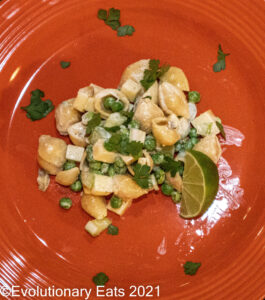 2 ounces cubed mild cheddar cheese
3 stalks celery
4 ounces dry shell macaroni, gluten free chick pea
1/4 cup mayo
1 tablespoon jalapeno pickling liquid
1/4 cup mayonnaise
1/2 cup diced onions, about half of a medium onion
2 tablespoons chopped jalapenos
Cook the pasta and blanch the peas; chill and set aside. Dice the celery and onions. Cut the cheese into 1/2 inch cubes. Chop the jalapenos. In a small bowl combine 1 tablespoon of the jalapeno pickling liquid and 1/4 cup of mayonnaise. Add a few grinds of fresh black pepper. Combine all ingredients in a medium mixing bowl. Taste and add salt and pepper if desired. To serve, top with fresh parsley and place a wedge of lime on the plate.