Since August of 2015, I have been working on a farmers market for my little town.  It was born over cocktails, as most great projects are.  I expressed out loud what my friends were wishing for.  Then the project began.  The team worked at getting the permits, location, vendors, and I built the website and Facebook page.  The market opened January 8, 2016, on a sunny Friday afternoon.  This was handed off as a business to one of the team, who is more philosophically in line with the goals and purpose of a farmers market.  It was a passionate project for me, and brought me out of the desert I had been in professionally for a few years.
When the market opened, we needed to have food and goods for our customers, so I got a permit, and started baking gluten-free breads and cookies in my kitchen.  For the first 8 markets, my sales supported the costs of baking, and allowed me some contact with customers and vendors.  But sales dropped off, partly due to rain and reduced attendance, after the first excitement in the town wore off.  It was clear that this temporary baking business was just that – temporary.  I stopped baking, and took on my roll as the managing director, making sure bathrooms were cleaned, trash picked up, vendors happy, and customers talked to and greeted.
In late April, I was reminded of why I wasn't cooking for people.  The evils of nerve damage from carpal tunnel and subsequent complications reappeared, but with a twist.  The swelling was in a different place and the pain was much more intense then in the past.  An x-ray revealed the arthritis, and the words steroids, injections and surgery were tossed out like dirty water.  As a believer in God and His immense power to heal, I accepted finally that it would not be healed, and that the mission was not about cooking for the masses, but about a mission soon to be on the horizon.
There was a sense of relief and fear, at the same time, in the acceptance of this disability.  It's not a challenge.  To be completely politically incorrect, it's a disability.  Try opening a jar.  The pain is searing and my hand won't grasp the lid.  Here's how I know the difference.  I'm vertically challenged, also referred to as short.  A challenge is something that can be overcome by adaptation of some type.  So I have step stools all over my house and three ladders.  If I need help with a light bulb or something else, I have friends who are able to help.  If I want to open a bottle of water, it's not like I can call a friend to drive and meet me to open the water.  It's a disability.
When I started this blog, the intention was to be a food writer, and focus on food for families, home cooks and inject some fun and history along the way.  When, a year later, my personal life needed every bit of my attention, this became neglected.  I would look at it, try to write something, delete it, and go to my room and cry – literally.  The vision of what we were going to do with it crashed and burned and the fire didn't go out for three years.  There was no energy to re-think and re-tool, because all of those energies were going into my personal life, trying to not pick up pieces, but instead to choose the most important pieces left behind.  I pissed off a lot of people along the way, but did what my instincts told me.  There was a treasure trove of worthless crap that had to be sorted and shredded.  The shreds fed the fire until there was nothing left to burn.  I packed up the leftovers, moved and didn't look back – much.
In August, I got some of my passion back with my friends who are farmers in this enclave of oddities in Texas.  We sipped our newly created Tequila on the Green from plastic cups on a hot afternoon at a monthly craft event.  After months of meetings with city officials, searching WordPress.org for help on the community we launched January 8th, 2016.  In April, when my evil hand returned, I cried again, but also there was a strange sense of peace that came over me as well.  I knew the next project was about to appear, and my full passion would be back.
"…praise the Lord, my mouth still works!"
I am a Scorpio and know that the phoenix is the highest level to attain as a Scorpio.  Yup, God and astrology.  I'm dusting off the ashes and starting to rise.  The good news is that the first video and set of photos plus recipes are logged.  The evil hand is not as evil.  I can open a water bottle with a towel.  Jars are still a struggle.  But I can hold a camera, hold a knife for short sessions, type, and praise the Lord, my mouth still works!  The difference now is that there is a clear purpose to my ramblings, and I have learned to plan better, set up better lighting, run two cameras, mise my ingredients, (that's chef talk for planning), and writing a script.
Soon I will step away from the market.  The rest of the team sets up booths there every week, and my duties as an instigator and consultant are coming to a close.  The evil hand and my sun-sensitive skin agree that it's time to move on.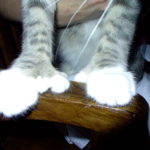 Now, if I could only teach Buzz how to open jars….