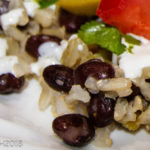 Just because I created this recipe for another recipe doesn't mean that it can't be served as a side or main dish with simple additions. Maybe some ground beef or ground turkey mixed in, topped with some cheese and you've got a quick casserole! Adding some mushrooms and more vegetables will keep it vegetarian. Leave off the cheese to keep it vegan. How about making some eggs and grill a couple of tortillas for easy breakfast tacos with the leftovers? Either way, the recipe deserved it's own stand alone location on the web. Please enjoy, anyway you decide to consume this tasty recipe!
Hot and Dirty Rice and Black Beans
This is a delicious base for Hot and Dirty Margarita Chicken, or for any dish that needs a boost of flavor and heat.
¾ cups brown rice
¼ cup margarita mix
¼ cup olives stuffed with jalapenos or serrano peppers
2 tablespoons olive brine
1 cup water
½ teaspoon ground cumin
½ teaspoon granulated garlic or one clove, finely minced
½ teaspoon black pepper
1 15 ounce can black beans drained and lightly rinsed
2 teaspoon fresh lime juice
Fresh cilantro chopped for garnish
Combine all liquids in a 2 quart pan. Bring to a boil. Add the rice, stir, bring back to a boil, reduce heat, cover. Cook over low heat for 30 minutes. Or use a rice cooker. It's easier. When rice is done add the beans, and stir in gently. Once plated, drizzle lime juice and garnish with cilantro