There are days I love what I do
And this is one of them. I schlepp beer and wine and recently applied for management training. One of the ways I need to prove myself worthy of the program is a sales project. As I was considering my options, we sold out of olive brine. We can't sell liquor (Texas law), but we do sell mixers, and olive juice is a good seller. One of my friends loves spicy Mexican Martinis. So I decided to create a dirty margarita.
I went on a search for ingredients.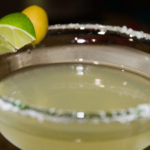 On the pickle aisle, I found the perfect product – olives stuffed with Serrano peppers. This was a great find! I love Serrano peppers, and grew them when I had a vegetable garden. The peppers ripened on the vine and became a beautiful example of sweet heat. After picking, the peppers would be dried and packed in clean jars for use in chili and other recipes. Finding the olives stuffed with Serrano peppers made me very happy.
The cocktail is very easy with just a few easy to find ingredients.  Tequila, lime juice, a good margarita mix, and a jar of olives. Substitutions are allowed.  If the Serrano olives are not available (HEB will ship them to you), use your favorites.  There are many versions of jalapeno stuffed olives on the market.  The Serrano olives are a bit hotter, and that's a plus when making the cocktail.  I liked them so much I created some recipes for the olives and the margarita mix.  Just a guess that these will be a hit for Cinco De Mayo parties!
Hot and Dirty Margarita
The Hot and Dirty Margarita is a delicious and easy cocktail for those who want to spice up their cocktails! Be careful! It's hot, and addictive!
1 ½ ounces tequila, Reposado is best
3 ounces margarita mix
2 splashes of fresh lime juice
2 splashes of olive brine
2 olives stuffed with jalapenos of serrano peppers
1 wedge of fresh lime
Rimming salt (optional)
Pour ice in a large margarita glass to chill. Slice one olive into 2 or three chunks. In a cocktail shaker add the tequila, margarita mixer, lime juice and olive brine. Add the sliced olive and muddle slightly and remove but do not discard. Place some of the ice from the glass into the shaker, discard the rest of the ice and rim the glass with salt. Shake the shaker for a few seconds and using the strainer, pour the cocktail into the glass. Add the sliced olive and garnish with the wedge of lime and whole olive.