I had to get a job!
No worries, it's one I like and my bosses seem to like me.  It's a good fit.  But it's taken me away from some of my projects, so there are some updates.
I will be teaching and catering a class for a group of women who love food and wine.  The focus is on Spanish Holiday foods, and it's been fun researching and testing the recipes!  We will be making a saffron citrus salad, crispy skin chicken thighs with saffron and lemon sauce and red potatoes, leeks with mushrooms, and a lemon cheese cake.  I based the menu and recipes on a menu from Chef Jose Andres.  This is in December, and I'm looking forward to working with the ladies!
It's October, so I decided to work on some pumpkin recipes.  This was a request for a friend who has a severe form of Celiac disease and wanted some treats for a wedding in November.  The pumpkin cookies are delicious, but look a little strange, so some minor tweaks are required.  Plus as always, there are seeds to be roasted and snacked on.  I like mine roasted with butter and Konrikos creole seasoning.  Love it when the seeds pop and fly all over the oven!
My new job is selling beer and wine, and believe it or not, I got a little rusty with my wine knowledge.  I have been drinking what I like, and it isn't what most people like.  So there has been some consumption of cabernet sauvignon,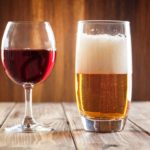 cabernet franc, pinot grigio, sangiovese, garnache, and pineapple hard cider. Before the jop started, I was learning more about sauvignon blanc from different regions, and settled on the New Zealand grapes as a favorite.  With the gluten issues, beers and ales can be a serious challenge, so I have been doing loads of research on how specific beers are made, who filters who doesn't and much more.  Sticking to my IPA's and hard ciders and sodas for the time being.  And honestly, drinking for work is a lot harder than you would think.  Tasting wine for the subtle nuances takes concentration to learn, and retraining my taste buds to recognize them can be a challenge.  What's harder though is learning the inventory!  It's fun to be back in the store and seeing some of my old customers, plus I love the people I work with and for.  You can find my profile on Vivino.com.  I will be adding more as I find more to love.  You will notice that I have included a box wine on the list.  This is a great red wine for the one or two glasses when I get home from work.  My cats haven't developed a liking for wine, so this saves me from potentially throwing out a bottle.  It happens on occasion that the wine changes too much over a day, no matter how good the stopper is.
If you need to place an order for some bread, cookies or muffins, I am baking whenever I can!  With the upcoming holiday season, I will be baking cookies, and taking holiday orders.  It's 100% gluten free, made in my 100% gluten free kitchen.
Save