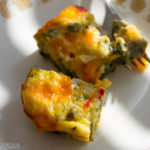 The Evolving Frittata is a great recipe for any make ahead purpose.  Although it can be very fancy, it is also an excellent staple during the week.  It can be made ahead, stored for up to seven days in the refrigerator, and it's quick and easy to reheat.  Plus the variations are as endless as your imagination.  If you have a kid that loves pizza but hates breakfast, try substituting the meat with pepperoni or sausage, adding sun-dried tomatoes and topping with mozzarella.  The frittata has now evolved into a breakfast pizza!  If you're on a low carb paleo type of diet, this is a great way to start the day.  If you're going low fat, swap out the whole eggs for 1 cup of eggs whites from a carton, and substitute the half and half for low fat milk.
If you forget to defrost the spinach, just cook it in the pan with the sausage, until most of the water is gone. Saves time and a pan in the microwave!
Evolving Frittata
6 large eggs
¼ cream or half and half
4 ounces fresh chicken sausage
½ cup onion small dice
½ cup bell pepper, medium dice
4 ounces frozen spinach, thawed the drained thoroughly
½ crumbled feta cheese
½ teaspoon black pepper
½ cup pickled jalapenos
Preheat the oven to 350 degrees. Heat a medium non-stick skillet to medium and add oil or non-stick cooking spray to coat pan. Crumble the sausage into the pan, and cook until it's almost done. Add the onions and bell peppers. Coat until tender, but not browned. Remove from the heat and let cool. Meanwhile, spray a 9" x 9" baking pan with cooking spray, making sure it is thoroughly coated. In a medium bowl beat together the eggs, cream, and pepper. Spread the sausage mixture into the baking pan, top with the spinach and feta and add the jalapenos. Pour the eggs and cream over the pan and using a spoon, spread the mixture out as evenly as possible. Place the pan in the oven and bake for 18- 22 minutes or until the center doesn't jiggle and the edges are lightly browned. Cool, cut into about 12 pieces and store in the refrigerator in an airtight container. To serve, reheat for about 90 seconds on high in the microwave or until hot. A serving is about 2 pieces. Use or freeze the frittata within 6 days of preparing. When freezing, wrap tightly in plastic wrap to prevent ice crystals from forming.
The recipe can be easily doubled and baked in a 9 x 11 inch cake pan.