Serves 4
4 six-ounce chicken breasts
¾ cup white rice flour
¼ teaspoon salt
¼ teaspoon black pepper
1 cup milk or better, buttermilk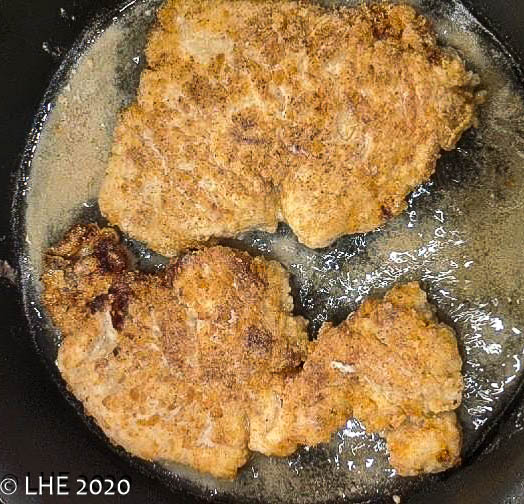 1 cup gluten free flour blend
½ cup gluten free panko bread crumbs
1 teaspoon granulated garlic
1 teaspoon granulated onion
1 teaspoon salt
1 teaspoon ground black pepper
½ teaspoon cayenne (optional)
Butterfly the chicken, if needed. Wrap each piece loosely in plastic wrap and place on a flat surface. Using a meat mallet pound each breast with the smooth side until the filet is an even size. Heat a 12-inch skillet over medium heat, (cast iron, or a high-quality heavy bottom non-stick pan will work). Add ¼ cup cooking oil and heat until it's shimmering. Dredge each breast in rice flour mixture, dip in the milk and dredge in the gluten free flour mixture and into the hot pan, two at a time. Don't crowd the pan! Cook on each side for three to five minutes or until the internal temperature reaches 165 degrees.
While the chicken is cooking, set up a landing station using a large baking sheet lined with paper towels and a cooling rack upside down. To keep warm, place the chicken in a warm oven, about 200 degrees.
I always have leftover flour. I came up with a fried biscuit, aka, hushpuppy to use the leftovers. In a bowl, combine the flour with one or two teaspoons baking powder. Add one egg and enough milk to make a thick batter, a bit looser than a cookie dough. Add another two or three tablespoons of oil to the already hot pan. Drop the batter in with a scoop or tablespoon. Cook until deep golden brown. To make it even more delicious, add some finely chopped onions or scallions and chopped pickled jalapenos to the batter. Serve as a side dish with the chicken.