This recipe for Turkey Burgers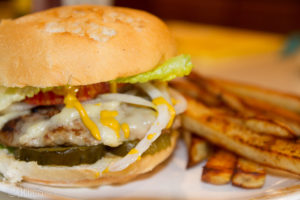 is gluten-free and easy to prepare for week night meals.  It has always been a staple in my house, one that I stashed in the freezer for quick meals and lunches. If you need to cut the carbs, double up on the lettuce and wrap the burger.  The delicious recipe makes four 1/3 pound burgers.  Lea and Perrin Worcestershire Sauce is gluten-free, and let's, face it, the best out there!  I recommend Udi's bun, usually found in the freezer section of the supermarket, which makes them easy to store and save for future use, the best option for families with just one person needing gluten-free foods.
Gluten Free Turkey Burgers
1 ½ pounds lean ground turkey
1 tablespoon Worcestershire sauce
2 teaspoons granulated garlic
¼ cayenne pepper
¼ teaspoon white pepper
½ teaspoon salt
4 gluten free burger buns
2 tablespoons mayo
Tomato slices
Onion slices pickle slices
Lettuce leaves
In a medium bowl gently combine the turkey, Worcestershire sauce, garlic, pepper and salt. Make 4 equal balls, and form into patties and set aside. Preheat a 12 inch skillet; add 1-2 tablespoons vegetable oil (I use grapeseed oil). Carefully add the patties to the hot pan and reduce the heat to medium low. Slice the veggies and arrange on a plate. Spread the mayonnaise and mustard on the buns, if desired. Flip the burgers, and cook until the internal temperature reaches 165 degrees. Remove from pan to paper towels, if needed. Let each person add veggies and toppings as desired.