I love green beans! When I was a little kid, we had a vegetable garden and the rows of green beans were my domain. I would hoe the rows and plant the seeds and check for baby plants every day. When the blossoms started to wilt, the beans were not far behind. But it wasn't until later in my life I learned there were more than three recipes for green beans.
Although fresh steamed green beans are amazing, especially when freshly picked from the garden, I've learned that sautéed and fried green beans are also amazing.
This recipe was something I developed for a party.  It's very easy to make and very quick to prepare and cook.  I usually use frozen haricot verts, or very extra fine green beans.  They are thin and cook quickly without becoming soft and gray.  It's also less work to use frozen.  No snapping cutting or cleaning.  If haricot verts are not available, use whole or cut green beans.  French sliced becomes limp and stringy very quickly when used in this recipe.
Green Beans with Almonds, Pimentos and Lemon
1 pound fresh or frozen whole green beans, haricot vert recommended
1 two-ounce jar pimentos, drained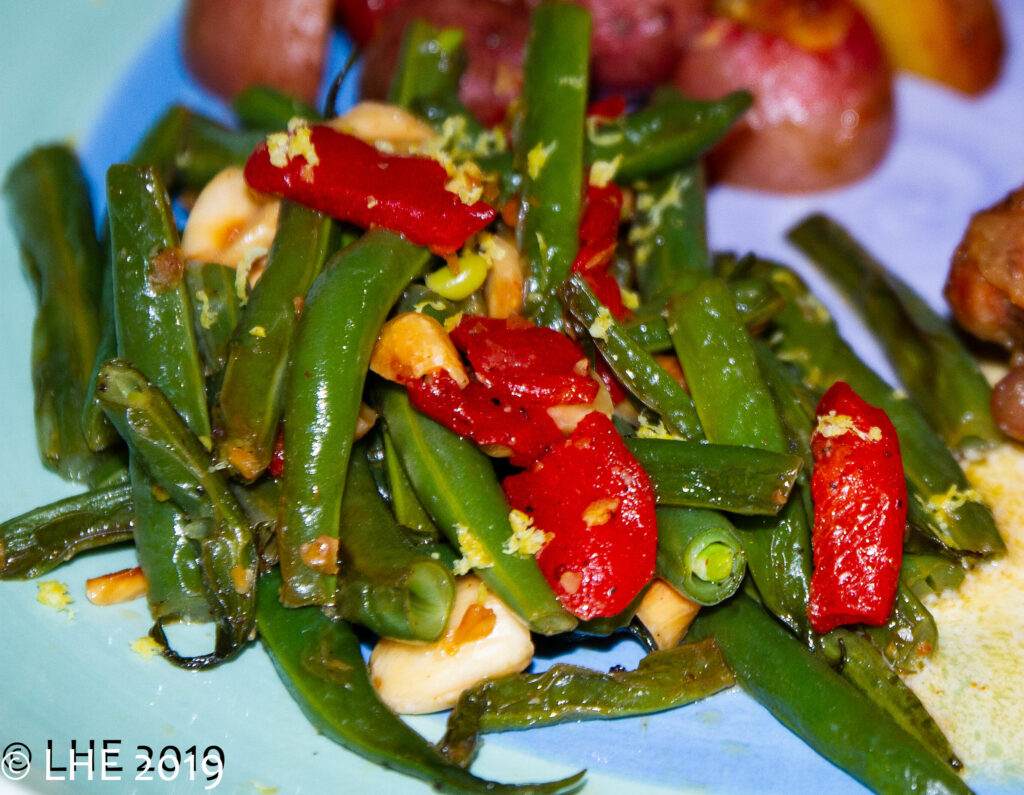 1 lemon, zest and juice
½ cup almonds, chopped
2 tablespoons olive oil
1 clove garlic, minced
Salt and Pepper to taste
Clean fresh beans, remove stems and rinse thoroughly. Heat a large sauté pan over medium heat. Add the oil; heat. Add the almonds and sauté 2-3 minutes. The almonds should have a fragrant scent and begin to look translucent. Move to the side of the pan. Add the green beans stir every 2 to three minutes. For softer beans, cover for a few minutes. After about ten minutes add the pimentos and cook until heated. Add the garlic, salt and pepper. Stir and toss to combine. Add the lemon juice and remove the pan from the heat. Sprinkle on the lemon zest and serve.