Who doesn't love a good bowl of soup?
Soups and stews are some of the easiest recipes to follow. Just throw a few things in a pot and let it cook. But to get the best results, layering the flavors is key to a delicious soup or stew.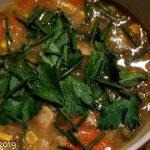 I'm more of a stew person.  I like rich hardy bowls with loads of veggies, creamy sauce and meat.  I spent many years eating canned soup for lunch, and now make my own soups and stews and freezing the leftovers.  Some soups are so fast, you can have a meal on the table in 30 minutes.  Some are best when cooked all day and served after a night resting in the fridge. Either way, soups and stews are an easy way to make many people happy.  From beautiful Miso to a rich Tex-Mex Lamb Stew, there is something for everyone!