Living Gluten Free
It was never my intention to become a gluten free eater. But my body had a different idea, and eventually I become so sick from eating food containing wheat, I had no choice. Just like any other allergy, it came on slowly with more and more discomfort and symptoms of a food allergy. So about six years ago, I began eating an almost 100% gluten free diet. Wheat seems to be the biggest culprit for me, and once in a great while I will consume a filtered non-gluten free beer, or a bite of a delicious cake. But sadly, I have to be one of "those people" who always ask for the gluten free menu at the restaurant, or stand in grocery aisles reading labels. So, here's the good news for you. I have a very extensive list of wonderful gluten free foods from food processors that meet or exceed taste and texture of gluten containing products. From cookies to chicken nuggets, here's my list of the best.
Cereals –
Cheerios – same great flavor, but now made in a gluten free facility. I'm currently obsessed with the Chocolate Cheerios
Udi's Granola – For a slightly healthier breakfast or snack, I love the Udi's Cranberry with vanilla yogurt.  And, I recently made an apple crisp and rather than mixing up oats and nuts, I used Udi's Original Granola and just added some butter and brown sugar for a delicious and crunchy top.
Appetizers and Snacks –
Feel Good Foods makes a line of gluten free frozen foods, and when I recently had a craving for an egg roll, I found a box of Vegetable Egg Rolls. So yummy! Go to the website and use the zip code search to find out where you can buy these rolls of deliciousness! I found mine at my HEB in Austin, Texas
Mission Tortillas – Mission Foods has many gluten free options. I'm obsessed with the new Gluten Free Soft Tortillas! I was able to get a sample a few years ago, and couldn't wait for them to make it to the grocery shelves. The tortillas are great for burritos, enchiladas, quesadillas and soft tacos, of course. Go to their website for other delicious options and locations to purchase!
Breads and Breakfast –
Glutino English Muffins – Without the use of a good wheat flour, English muffins are one of the biggest failures for gluten-free food manufacturers. Glutino makes a full line of crackers, breads and cookies, but the best by far are these frozen muffins. The muffins have a delicious slightly tangy flavor, and when toasted, make a great substitute for the real thing.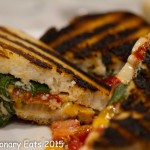 Udi's Multigrain Bread– Udi's has been around for a long time and has continued to improve and revamp products. When I don't have time to bake my own bread, I buy Udi's Multigrain Sandwich Bread. The recipe was recently changed and the improvement is amazing! The previously crumbly bread now holds together for the best sandwiches and toast. My favorite uses include grilled cheese sandwiches and patty melts! Also, try Udi's Buns and Bagels. You'll thank me later!
Frozen Snacks and Pizzas –
H-E-B Natural Fully Cooked Breaded Chicken Strips – This is a frequent go-to for my week night meals. I love to top a salad with these yummy strips, drizzled with H-E-B Organics Honey Mustard Salad Dressing. The chicken strips are available in gluten free and the regular gluten filled version. I actually prefer the H-E-B brand over the national brand. The dressing is available for online purchases and shipment anywhere in the USA and is also gluten free.
Smart Flour Foods Frozen Pizza – Here's the good news about Smart Flour Foods – what started out as a small company in Austin, Texas is now widely available throughout the country! Without a doubt, the pizzas have the best gluten free crust and one of the best sauces I have ever had on a frozen pizza. And the even better news is that they are often the purveyor of gluten free crusts to restaurants everywhere. I buy the 16 ounce pizzas at my neighborhood H-E-B.