Personal evolution is inevitable.
Each day we wake up slightly different than we were the day before; our bodies have had a brief period to recharge and repair some of what we did the day before.  Even our beliefs evolve and can ultimately bring us to a higher knowing of ourselves and those who inhabit our lives. Sometimes the evolution is major, and forces an examination of our lives to the point that everything has to change.  For me it was in 2012, when my soul mate was diagnosed with terminal cancer and passed away less than three months later.  In a split second, everything changed, and I have spent the years since his passing, examining everything in my life.  My world had collapsed, and my heart and soul seemed to have been a victim of the collapse.
In the first year, I made a few attempts at keeping this website more up to date, with new content, but whether or not anyone reading noticed, it was tinged with sadness, and I couldn't get back on track.  I was overwhelmed by the processes of grief and resetting my life as a single woman.
After the purge, I threw myself into updating the house we purchased just ten months before he passed.  In a short time, the house was sold and I moved into another neglected house, and spent months updating it, trying to make it the new and beautiful studio for Evolutionary Eats.  I felt positive about the new track I had envisioned for the website and to expand my business locally, but again, everything seemed out of sync.  I struggled with lighting, camera angles, glare, and just putting sentences together.  It made me a better photographer, I taught myself how to light the space.  But my passion for food had faded away.  Everything I tried seemed empty.  I felt like a fraud.  I was alone for the first time in my life, and it made me again, examine my life and the choices I made that brought me to this point.
I had become a better follower of God,
and asked for guidance, and a reason why I was in this town.  Within days, my prayers were answered.  I met a woman selling vegetables at what was supposed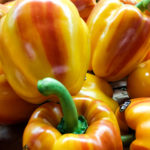 to be a farmers market.  Over the next five months, I assembled a farmers market in the town we live in.  I knew that it was never supposed to be something I owned, or would participate in for the long haul, but it was positive momentum for me.  My active participation has ended, although I still maintain the website.  My task was complete, and it was time for me to move on.  Continue the momentum.
In the last year, financial worries have surfaced.  To slow the bleeding from savings, I took a job schlepping beer and wine in a supermarket.  I knew it could not be a long-term gig.  The physical aspects are beyond what I can realistically maintain.  The income is far too low for me to actually live on.  The house repairs landed me in debt, so after some research, I put the house up for sale.  The intention is to get closer to Austin, where I have family and friends, where hopefully, I won't be completely alone.  I have learned that to run a successful business, it can't be a solo project.
God speaks to us in very strange ways.
Back in the day, I played music semi-professionally.  I sang, played guitar in country cover bands.  At a pivotal point, a friend told me I needed to tweak the set list.  I did, added more rock, and we were soon playing every weekend.  I moved to Nashville, and went back to country, and things fell apart.  I learned I'm not a a good country singer.  I guess the lesson here is that, I should not have tried to change Evolutionary Eats as my personal life was collapsing.  Evolutionary Eats as originally intended could no longer exist without T.D.'s wise input, but changes are inevitable when a major component is removed.  Here in Texas, when someone finds something obvious that they are oblivious to, they say,"if it were a snake it would'a bit ya!".  The snake narrowly missed me!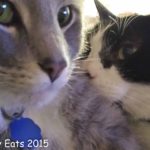 To be honest, I have no idea where this is going. It's again a time to re-visit the original intention of Evolutionary Eats, and narrow down the focus of the project.  As I built the farmers market, multiple options for growing this into a local consumer focused business were on the table, but after a few tries in a this small community, I tabled them.  I can cook for people, but with the overhead costs, it was a financial drain with limited clientele.   But another web project is live, a contributor-based website called Hungry Winos For Christ.  Evolutionary Eats will continue.  As I work on yet another edit of this post, I'm not sure of the form this will take, but it's time to go back to the origins.  Call it a bit of de-evolution, with some twists.  The good news is that my passion for food is reawakening.  I feel the hunger to create something delicious; a feeling that seemed repressed for years.   Evolution is inevitable.  The environment determines the results.  Evolution is inevitable.
Save
Save
Save
Save
Save
Save
Save
Save