This has taken 6 long years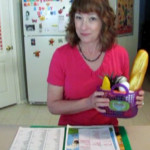 Seven years ago we made a few videos.  Cooking, shopping, making some sausage and just messing around.  I had some help.  T.D. helped with setting cameras, and making sure that if anything stupid came out of my mouth he would point it out.  But then it was over, he was gone.
I tried to make the videos alone.  But stress, fear, and that thing where you know you don't know what you're doing comes through.  There is a hard drive filled with hours of really bad video; completely unedited and, I think, unusable.
Six years after the infamous sausage making videos, I found a partner in the madness of making do-it-yourself food videos.  She's an artist with a good eye for details and a sense of humor almost as twisted as mine.  This is a kid friendly site, so I won't go into the details.  So we scheduled a day to shoot three videos.  This was ambitious, but what was more ambitious was that I could jump back into editing after six years and multiple software updates and new releases.  Schmeh.
So months later, thanks to several hours watching and working along with You Tube, the videos were uploaded.
I do this as a creative outlet, really just for fun.  If I'm helping and serving along the way, even better.  It's become increasingly difficult to make a living on the inter webs, but it isn't impossible.  The hardest part is getting started and then continuing to grow a personal brand.  I took a break that may prove to be impossible to overcome.  The rules for each stream of potential income continues to evolve; sometimes for the better, but more often, making the process more challenging.
I will always call food and recipe creation my first priority.  Just like so many others, it's that basic drive to create that keeps me continuing the process, and hopefully my growth professionally and personally.  Since I returned to this crazy endeavor, many things have improved for me.  I feel better, less stressed, happier.  When I step away from the world of beer and wine schlepping and into my kitchen for a project, I know I'm in the right place and I can't not do it.  I could simply take photos and slap the recipes on my website, but forever the ham, I had to get in front of the camera, and then behind the camera.  I am an amateur photographer with the passion to keep going and trying to be better.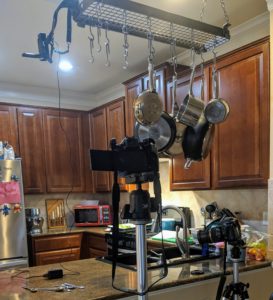 The new projects are more complicated, with more to do and more moving parts. It's a challenge to myself to become better at what I am trying to accomplish. I am jury-rigging cameras to pot racks, bringing in small countertop appliances and gadgets, and digging out old gear to make things fit together.
What is always important is the content. I get stuck with the technicalities, and in the most recent attempt, I forgot to write the story. The story is the most important aspect. But getting great shots to tell the story has it's role. We are visual beings after all. We eat with our eyes before we ever take a bite. The visual has to be in balance with the story.
I can't not do this. Every time I search for the photos or video, I'm reminded how much my soul has attached itself to the story of food – my story of food. It's family, it's work, it's friends and it's sustenance. Sometimes I don't want to do it, but soon it's apparent that walking away is not an option.